Description
We cordially invite you to an evening of celebration and fun. On Saturday, October, 7, 2017 we will host our First "Victor and Warriors Gala" at Augusta Pines Country Club. You or a loved one has gone through the journey, come out and dress to impress in your formal regalia. Our Gala's theme is..."A Look back to Remember and Give Thanks."
We will have a "Spotlight of Thanks" highlighting God's grace and mercy during the cancer journey. If you would like to recognize someone or give thanks, please share your story with us (You will be given the chance to share your story, once you begin your ticket purchase) and we will let you know if your entry is selected for the spotlight moment.
Emcee for Gala...Journalist, Alicia Quarles!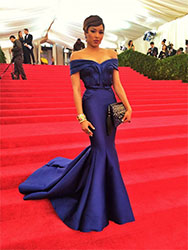 Alicia Quarles was the former New York Correspondent for E! News. She covers all things entertainment and fashion. Prior to joining E!, Quarles was the Global E
ntertainment Editor for the Associated Press. Quarles, based in New York, led a 60-member staff of journalists based primarily in Los Angeles, London, and New York. She joined the AP's Los Angeles bureau in 2003 after graduating from the University of Southern California. While there, Quarles worked as an entertainment producer and text reporter. From 2005 to 2009, she worked in New York as a senior entertainment producer, text reporter and entertainment editor for North America. As Global Entertainment Editor, Quarles oversees staff coverage of music, film, television, books, social media and other areas of entertainment across formats worldwide. She also appears on-air, on the top television networks as an entertainment expert.