Vickie's Surprise Retirement Dinner Celebration! (***Please Read Notes***)
Description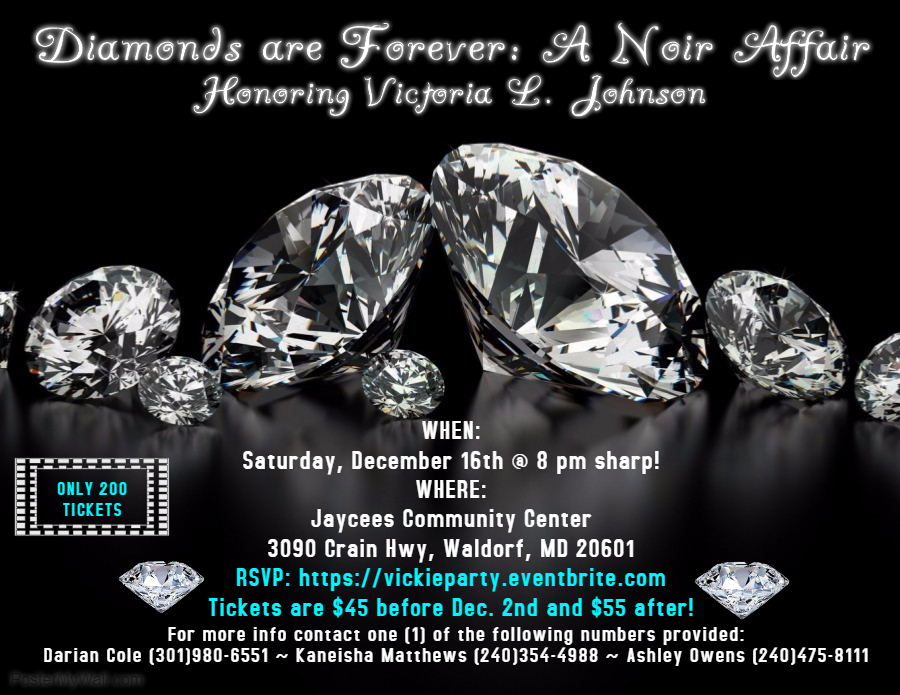 PLEASE DO NOT WORRY ABOUT THE DATE THAT SHOWS ON EVENTBRITE! THE EVENT IS STILL ON THE 16TH OF DECEMBER AT 8 PM! PLEASE TRY TO RESERVE YOUR SEAT BEFORE THE 2ND OF DECEMBER!
For those that may not know "Noir" means black and semi-formal!!! So we are asking that you come dressed in black accented with any other color that you may prefer.
If you have a gift that you would like to give to Ms. Vickie we will provide a gift table for you to place your gift there. (Cards, gift cards, letters of congratulations, well wishes on her retirement)
As you know may or may not know this is a surprise party! Because this is a surprise and we are working really hard to keep it that way, we ask that you be at the location by 7 pm and seated (we are expecting Ms. Vickie shortly after that). If you are running late we ask that you please stay in your vehicles until she comes in so that we do not ruin her surprise! Please do not tell Ms. Vickie what is going on no matter how challenging it may be!
If you need a ride or would like to carpool please call or email Darian Cole at 301-980-6551 or Dariancole05@gmail.com so we can see if we can make arrangements for you!
We ask that you please follow our instructions so that everything will run smoothly for the best Area Manager in the world! Provided below is the information of the menu!
Menu (Buffet Style):
~Beef Burgundy Tips - Tender Strips of Beef simmered in a Burgundy Mushroom Sauce served over Rice or Pasta
~Southern Maryland Fried Chicken
~Seafood Newburg - Shrimp, Crab and Scallops in a Sherry Lobster Sauce served over Rice
~Fresh Vegetable Medley
~Parsley New Potatoes
~Tossed salad with a choice of two salad dressings (Ranch or Balsamic Vinaigrette)
~Rolls and Butter
***Cash Bar***