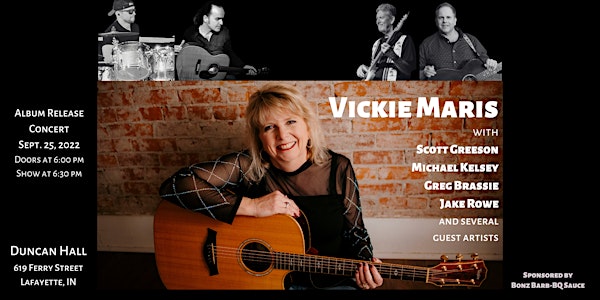 Vickie Maris Album Release | Concert with Michael Kelsey, Scott Greeson
Album release concert at Duncan Hall. Recording artist Vickie Maris with Michael Kelsey, Scott Greeson, Greg Brassie, & Jake Rowe
When and where
Location
Thomas Duncan Community Hall 619 Ferry Street Lafayette, IN 47901
Refund Policy
Refunds up to 1 day before event
Eventbrite's fee is nonrefundable.
About this event
Get your ticket early and lock in a special price for your copy of the new cd, "Another Universe." This album release concert is a one-of-a-kind event to debut the new songs by Vickie Maris. She will be joined in concert by the singer-songwriters-arrangers and entertainers Michael Kelsey and Scott Greeson. Also a part of the band are Greg Brassie and Jake Rowe.
Throughout the show, you'll get to hear a variety of music from Maris, Kelsey and Greeson plus singer-songwriter Lee Anna Atwell, who is one of the voices on the new album. Also in the show is Derrick Coleman, another fine artist, arranger and producer who will be on sax for us.
You can pre-order your copy of the cd here in Eventbrite or purchase copies on the night of the event. Please share the listing with your friends and family. We can't wait to see you on Sunday evening, Sept. 25, 2022 at the beautiful Thomas Duncan Hall, 619 Ferry Street, Lafayette, Indiana
Sept. 25, 2022.
Doors at 6 pm ET. Show starts at 6:30 pm ET.
Thank you to Bonz Barb-BQ Sauce for sponsorship of the concert!
Note: Several of the songs are releasing into the streaming services prior to the album release concert. Here are the dates when you can listen in Spotify, Pandora, Apple Music, YouTube, Amazon Music and many other directories ...
Friday, Sept. 16, 2022 - Mourning Dove; South Bend
Friday, Sept. 23, 2022 - Sanity's Edge, Daydreams, Is It Tomorrow
Vickie Maris | vickiemaris.com
Singer-songwriter, speaker, and podcaster Vickie Maris is debuting her solo album, "Another Universe" at Duncan Hall on Sept. 25, 2022. In addition to songwriting, Vickie sings harmony, plays guitar and accordion in the band Scott Greeson and Trouble With Monday. Vickie was a harmony vocalist in one of Greeson's earlier bands and co-founded a worship band, Brand New Day, that introduced contemporary Christian music to churches around Indiana in the early 2000s. The band recorded the album, For the Days Ahead, released in 2001. Maris is a cowrite with Greeson on the tunes Cutback Blues and Minnesota, both on his Riverside album. Michael Kelsey (see below) is one of her cowriters on several of the songs on the new album and provided the instrumentation, and served as recording engineer.
In 2015, she was asked last minute to fill in on the lead role for the reading at Purdue University of the new musical, Betty's Diner, written and scored by award-winning singer-songwriter Carrie Newcomer. Vickie has provided vocals on a number of recording projects including Greeson's Riverside album, Lee Anna Atwell's Burning Heart project, and the haunting vocals of the song Nature's Acts of Wrath, which is on the Collaboration album by Joe Peters and Frederick Michaels. The instrumentation and sound engineering of the 2-disc album is by Michael Kelsey.
Vickie is a connector. Her friendships and the love of music that she shares with each of the artists in tonight's concert are links bringing these musical worlds together for this special night of entertainment.
Michael Kelsey, Indianapolis, Indiana | michaelkelsey.com
Michael Kelsey brings a free-flowing, improvisational style to the guitar that involves every inch of his instrument. From his funky, percussive playing style that conjures an image of a one-man version of STOMP, to lush instrumentals reminiscent of Michael Hedges / Phil Keaggy, his performance blends multiple musical genres and vocals along with some techno fun to create a sound all his own. He is the winner of the Guitar Center's "Guitarmageddon." Chosen from among 3,000 entrants, the singer-songwriter performed Eric Clapton's Crossroads 2004 where he shared the stage with many legendary guitarists. Throughout a performance, Michael may make use of technology, his improv skills, objects in the room, and audience interaction to make music for the ears, but more importantly, a musical experience for the sense. Check out this sample of one of his original songs, Goodnight, from his latest release, The Most Perfect Place.
Scott Greeson and Trouble With Monday, based in Lafayette, Indiana | scottgreesonmusic.com
Americana singer-songwriter, Scott Greeson, who performs with the 6-piece, Trouble With Monday, is a favorite on countless concert venue stages, as well as festivals and fairs. The band plays the VIP stage prior to award-winning acts such as Zac Brown, Kenny Chesney, Tim McGraw and Brad Paisley, at Ruhoff Home Mortgage Music Center in Indianapolis (formerly Verizon, Klipsch and Deer Creek Music Center).
Scott and his bands have been favorites at The Taste of Tippecanoe, a TAF fundraising festival, since the early 1990s. In 2020, Greeson and Trouble With Monday did a fast pivot and pre-recorded a show to be included in the virtual delivery of The Taste when the World was in shutdown at the start of the pandemic.
In 2021, they lit up the Depot Stage at Riehle Plaza as the final act of the night. Michael Kelsey was a guest guitarist for the concert. Both the band and the audience were treated to the synchronicity of a freight train whistling its way into town along the tracks 100 yards from the stage as Greeson was playing his original, If I Had a Train, which is a cut from his most recent album, Riverside, produced in Kelsey's studio.
Scott's music is warm, and his style is engaging. He delivers an eclectic mix of songs reflective of stories from his upbringing and real-life experiences. Greeson's music has been compared to the likeness of Jason Isbell, John Mellencamp, Darius Rucker, Little Big Town, Merle Haggard and Zac Brown.
When he is performing with the band, Trouble With Monday, you will also hear originals by the other singer-songwriters in the band, his wife, Vickie Maris, and vocalist/pianist Lee Anna Atwell. The band is known for its three- and four-part harmonies. The group, which has been together over 20 years, also includes world-class musicians Kevin Ludwig on lead guitar, Greg Brassie on bass, Mark Molter on horns, and Stan Wallace on drums.