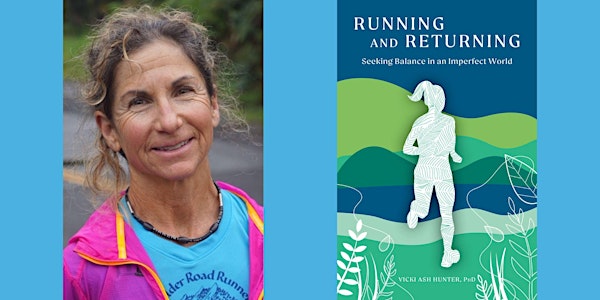 Vicki Ash Hunter -- "Running and Returning"
Vicki Ash Hunter will speak about and sign her book, "Running and Returning," at Boulder Bookstore.
When and where
Location
Boulder Book Store 1107 Pearl Street Boulder, CO 80302
Refund Policy
Contact the organizer to request a refund.
About this event
Vicki Ash Hunter will speak about and sign her new book, Running and Returning: Seeking Balance in an Imperfect World, on Wednesday, September 7th at 6:30pm at Boulder Bookstore.
About the Book:
For Vicki Ash Hunter, Ph.D., running was an escape. Compelled to move her body, flee her perceived inadequacies, and shed her sadness, Hunter found solace - and success - in competitive and endurance-distance running. She established herself as a national-class athlete, qualified for the marathon Olympic Trials in 1988, and became a trusted coach to others. Even after a life-threatening accident, motherhood, and, later, a shockingly life-altering injury, nothing could keep her from the roads and trails around her Boulder, Colorado, home.
But what was she running from?
In this, her introspective and insightful memoir, Hunter explores how generational trauma, including her mother's reliance on food and drugs; her daughter's drug use; and her own overzealousness with exercise impacted her family and how, in her early 60s, she is finding her way toward balance, strength, and confidence. She reflects on how she, her mother, and her daughter experience ratzo v'shov, (as it's known in Judaism), the spiritual act of running in its many forms and returning to appreciation grounded in self-love.
_________________
IMPORTANT TICKETING AND EVENT INFORMATION
*Tickets are $5 (plus a small processing fee).
*A coupon good for $5 off a copy of Running and Returning, or a purchase on the day of the event is included with your ticket. You will receive this coupon at the event.
*COVID-19 measures: Admission to this event will be limited, and masks are encouraged for all attendees.
*After purchasing your tickets, send an email to bbsvirtualevents@gmail.com if you're a Readers Guild member and you'd like to reserve a seat at this event. Seats must be reserved before 5pm on event day.