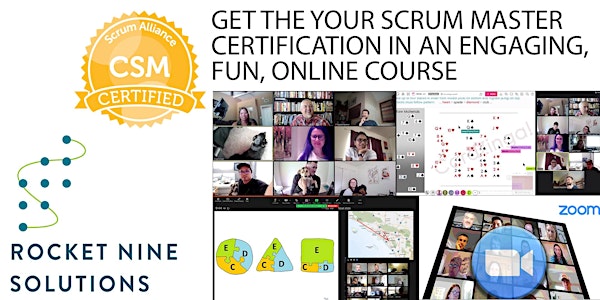 Vic Bonacci|Online|Certified ScrumMaster|CSM |December 29, 2022
Live Online ScrumMaster class led by Agile Coffee Podcast host -- 2 days with EVERYTHING you need to get your Scrum team up and sprinting!
Refund Policy
Contact the organizer to request a refund.
About this event
ONLINE CERTIFIED SCRUMMASTER
presented by Victor Bonacci for Rocket Nine Solutions
CERTIFIED SCRUMMASTER WORKSHOP
**Guaranteed to Run!!**
Your registration includes:
ALL certification and exam fees
Certified ScrumMaster class by Certified Scrum Trainer (CST)
Ask The Instructor: post-class tutoring for exam
Access to RocketNine's Ultimate Scrum Master Guide: the beastly resource of tips, ideas, research and videos
2 year membership to Scrum Alliance
15 PMI PDUs (category 3) and 16 Scrum Alliance SEUs
Lifetime membership in the Global Scrum Community
STUDENT TESTIMONIALS
From a Scrum Master: "I loved the alternative teaching styles. Your class pushes the boundaries of a typical online experience. If someone was on the fence, I'd push them over to your class!"
From an Agile Coach: "When my ScrumMaster told me he wanted to take a CSM class, from what I know about you and your classes, I thought you were likely to focus on servant leadership more than other trainers, so I sent him your way. He came by my desk this morning ecstatic about his experience and the impression you left on him! Really great work you're doing."
ABOUT THE CLASS
Rocket Nine's Online CSM classes are live and in real-time. Training is fun and engaging, leveraging creative online learning opportunities including games and stories to help you learn about the Scrum Framework, and break-out rooms for "table" exercises. You'll learn how to apply Scrum to your team, and how to leverage Scrum throughout the organization while avoiding common pitfalls and mistakes. Get exposed to different techniques for your toolkit to help you truly make a difference.
 Rocket Nine's Results: 99% of our students pass the exam on their first try, and class feedback has been more than 9.5.
WHAT YOU WILL LEARN
This two-day ScrumMaster certification course provides everything you need to get started with Scrum. The largest and most well-known of Agile project management, Scrum is a simple framework that has a small set of interrelated practices and rules, is not overly prescriptive and enables more effective teams.
This course shares industry-tested practices for evolving Product Backlogs, planning your Release and Sprints, tracking and reporting progress, and developing continuous improvement cycles. Participants will learn how to effectively plan and run daily Scrum Meetings, Sprint Planning Meetings, Sprint Reviews, Retrospectives, and more.
WHAT YOU WILL ACHIEVE:
CERTIFICATION - Pass the CSM exam and become a Certified Scrum Master
EDUCATIONAL UNITS - 15 PMI PDUs (category 3) and 16 Scrum Alliance SEUs
MEMBERSHIP - 2 Year membership to the Scrum Alliance and Lifetime membership in the Global Scrum Community
WHO SHOULD ATTEND?
Scrum Masters
Product Owners
IT Professionals
Managers
Testers
HR Managers
ANYONE INTERESTED IN LEARNING ABOUT SCRUM
Developers
Business Analysts
Marketing
Project Managers
Project Sponsors
Finance & Audit
ANYONE CAN ATTEND - NO PRE-REQUISITES
STUDENT TESTIMONIALS
From a Dev Team Member: "Just wanted to say thanks again for running this 2 day class. I've learned a great deal from you and you are one heck of an instructor. I will definitely recommend you to some of my colleagues for the CSM course. Anyhow, I just took the exam and passed it!! :-)
From a Scrum Master:"Great course to take me from very basic Scrum knowledge to confidence that I can implement on my own."
WHY ROCKET NINE
Experience with BIG Change - Organizations face challenges at all phases of their agile implementations: from team-level execution and delivery, to higher-level strategy, governance, and leadership. We know that for an organization to achieve agility, people at all levels must understand agile principles and be educated about agile processes like Scrum. Our foundational training courses are firmly rooted in the core agile principles and practices you need to achieve success, regardless of your ultimate role in the organization.
Availability and Support - We're available for follow-up with you, your leadership, and teams. Our broader Rocket Nine team of Certified Scrum Professionals also provides remote coaching and support for Kanban, Product Management, Scrum for Marketing, traditional project management, and scaling agility with SAFe, LeSS, Scrum at Scale and much more.
COURSE LEARNING OUTLINE
General Knowledge
Agile Manifesto
Scrum Foundations
Scrum compared to Waterfall
Scrum Values
Applicability of Scrum
Scrum Roles
Overview of Scrum Roles
Scrum Master as Servant Leader
Rounding out the Scrum Team: Product Owner and the Development Team
Impact on traditional roles
Scrum Meetings
Sprint Planning Meeting
Daily Scrum Meeting
Sprint Review Meeting
Sprint Retrospective Meeting
Scrum Artifacts
Product Backlog
Product Increment and the Definition of Done
Sprint Backlog
Integration
ScrumMaster Responsibilities and Skills
Scrum Simulation
Class Retrospective
YOU WILL LEAVE THIS EXPERIENCE KNOWING:
SCRUM FRAMEWORK: the events, roles, processes and artifacts as well as ways to apply them
BEING A SCRUM MASTER: including tips to being a better leader, coach and facilitator
TEAM BUILDING: leverage Scrum to create highly collaborative, sustainable and high-performance teams
______________________________________________________________________________
 About Victor Bonacci
Early in his career, Vic owned a restaurant, taught English in Japan, and worked on films in Los Angeles. He began webmastering for the auto industry in Detroit before becoming a back end Java developer using XP practices at the University of Michigan's Hospital. Vic relocated to California in 2002 to earn his MBA (USC) in Technology Management while working at Sony Pictures, then worked as a project manager for Panasonic.
Since 2011, Vic has worked only in Scrum / agile implementations. He has managed staff, facilitated large groups (75+), trained over 500 workshop attendees, and presented to thousands. Vic says that Agile has changed his life, allowing him to be the most effective, passionate and happy he's ever been over his long and winding career path.
Vic hosts the Agile Coffee podcast and is an Agile coach, facilitator and trainer with Rocket Nine Solutions. He lives in Orange County, California with his wife and daughter.
_______________________________________________________
 Rocket Nine Solutions
Other market-leading classes and offers:
About Rosa Media Productions
Rosa Media Productions is the marketing and training logistics management licensee for this Rocket Nine Solutions course. Rosa Media Productions provides video studio consulting, online course creation, and content marketing video production services for the product development corporate training and public education markets.
Cancellation Policy - Reschedule to another Rocket Nine Solutions public classes anytime, or cancel anytime up to 7 days before class for 100% refund. Fewer than 7 days notice will result in a 75% refund to cover hard costs. No-shows or move/cancellation requests on day of class are non-refundable. For minimum learning experience, the course must run with a minimum five registrants. If fewer than five are registered, the class may be cancelled three to seven days in advance, and attendees will be offered seats in the next Rocket Nine Solutions classes in the area or a full refund.
Media Release Policy - Please be aware that Rocket Nine Solutions (Scott Dunn, et al) may choose to record electronic and traditional media (e.g., photographs, video, audio footage, testimonials) at this event and attendees may appear in these recordings. By submitting a registration for yourself or someone else, or by attending this event, you grant permission for Rocket Nine Solutions to store those recordings in a database and to use them in future print, electronic, or other visual media for educational and promotional purposes. If you do not wish to grant permission, please contact the event coordinator listed below prior to attending the event.
Please refer to our FAQs page if you have questions.
If you need assistance, please contact us at course.admin@rocketninesolutions.com  or call Cliff Rosa at 714-699-4679. 
© Copyright 2020 Rocket Nine Solutions and Agile Coffee