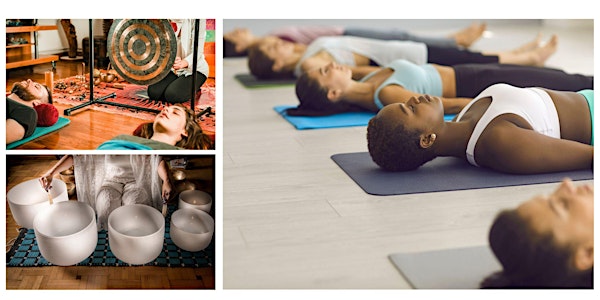 Vibrational Sound Therapy-Group Sound Bath
Vibrational Sound Therapy-Group Sound Bath. I will combine powerful vibrations and tones to help you relax in a serene group setting.
When and where
Location
1425 Federal St 1425 Federal Street Philadelphia, PA 19146
Refund Policy
Contact the organizer to request a refund.
Eventbrite's fee is nonrefundable.
About this event
Doreen D Rhodes Certified and licensed Vibrational Sound Therapist Practitioner
A Group Sound Bath consist of bathing the mind and body with Vibrational Sound in a group setting. Note: Fully clothed, sitting or lying down with a mat, pillow, cover etc. The induction of the sound waves from the singing bowls and other modalities goes directly into the body/cells, along with soothing ambient tones, which helps clients slide into deeply, calm meditative states.
Vibrational Sound Therapy: A busy life can pull you away from your center. (VST) brings on the same kind of brain state as Yoga, Tai Chi and Meditation. The unique sounds and frequencies resonate out into the Universe which helps to balance right/left brain, relax the Body, Mind and Spirit in calming the nervous system and helps to ease; Anxiety, Depression, Insomnia, Deepen Sleep and activate lucid dreaming, Boost Creativity , Deepen Mediation, Helps to restore and balance the body's internal rhythms,(Chakras) and much more. The Chakras hold the emotional wounds and traumas that we've experienced in our lives. It's time we acknowledge, release, heal, refresh and renew our BEING... Which equals " Well Being." We have shifted into the Age of Aquarius, It's time for you to gain more courage, strength and trust and allow your body, mind and spirit to remove blockages and shift into higher frequencies with Ease.
Those in good health, VST can assist you with supporting the development of your inner harmony and provide New Energy as you maneuver through the challenges that may surface in your daily life.
Disclosure: "Consult your physician If you are pregnant, sensitive to sound, suffer from sound-induced epilepsy or any other nervous conditions." VST is not meant to diagnose or cure any ailments, diseases or disorders. This modality is a method of deep relaxation that can assist with relieving stress, etc. and assist with improving Physical and emotional well-being.
FYI: No refunds. Doors close promptly at 2 pm so please arrive 15-20 minuets early to allow time for parking and to get settled in. Dress comfortably. Mats, pillows and throw covers and a few eye covers are supplied. Feel free to bring your own. You may bring a small crystal for meditation if you like. Shoes come off at the door. Please leave valuables at home.
Minimum (10) people... The cap is 20 people. $35 refund if minimum is not met.
RELAX** BALANCE** INITIATE SELF HEALING** Thank you
Location: Center City Breathe 1425 Federal Street, Philadelphia, PA 19146. A half block from Broad st. The building with the Orange Door coming from Broad street on your right and the logo CCB is on the door near a construction site.
Adult Men and Women ages 18 and up only. The group fee is $35 per person for a limited time.
(I offer private sessions) Website: doreendrhodes.com If you like, Please share.. Thank you
FYI: The studio space is equipped with an IQAir Health Pro Plus Hospital-Grade air purifier that filters 99.5% particles greater/equal to 0.003 microns which results in clean and safe air.