Vibrational Sound Healing Class @ Maui Yoga Path ~ Kihei

Weekly Event - Every Sunday: 5:00 PM to 6:30 PM (HST)
Event Details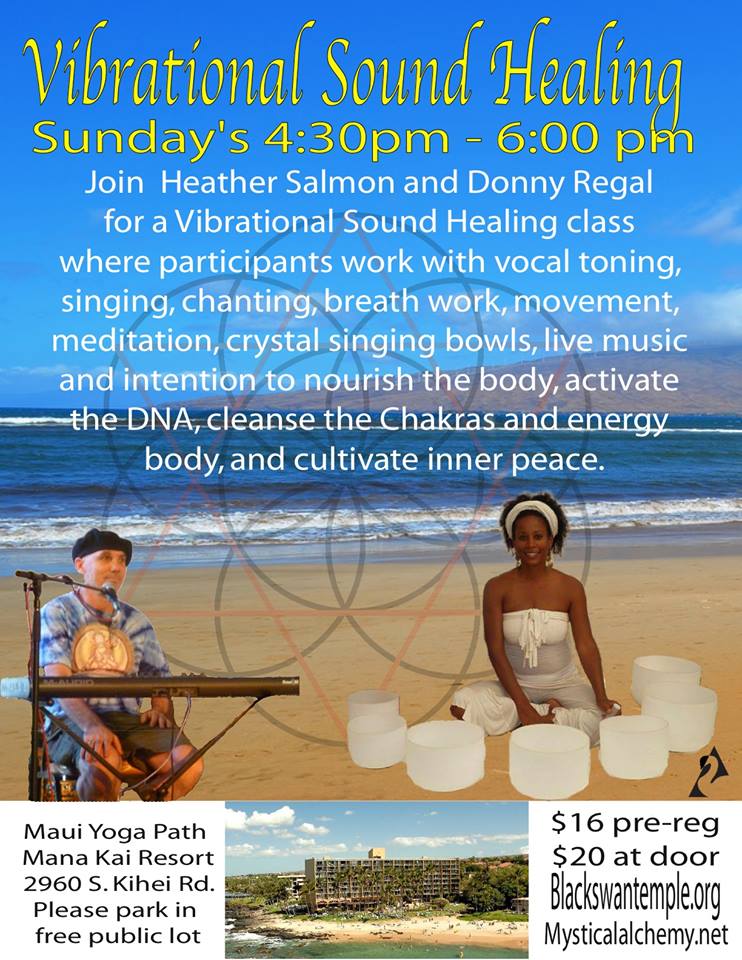 Maui Yoga Path
SOUND HEALING CLASS
(Sunday 5-6:30pm)
w/ Heather Salmon & Donny Regalmuto
The body is held together by sound and the presence of disease indicates that the body is out of tune.  Through the use of ancient vocal sound healing techniques we can help to restore balance within and without.  Guided by Heather Salmon and accompanied the live sound scapes of Donny Regalmuto, Heather plays the crystal singing bowls which powerfully magnify and transmit pure tone. When the bowls are played the sound penetrates into our very cells and re-balances them through oscillation and entrainment.

$16 Pre-registered in Advance
$20 at the Door
@ Mana Kai Resort
2960 S. Kihei Road
Please Park in the Public Lot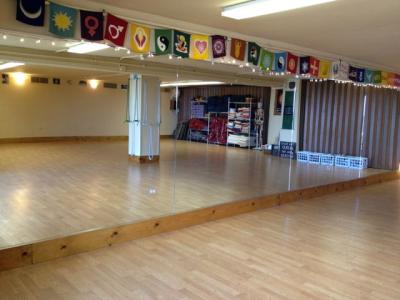 At our oceanfront studio you will love being able to hear the waves, see the ocean  and catch the sun set!!  You can also come early and take a swim, snorkel and walk on the beach up to five miles.
Sound Healing
The human body and the entire earth are made up of energy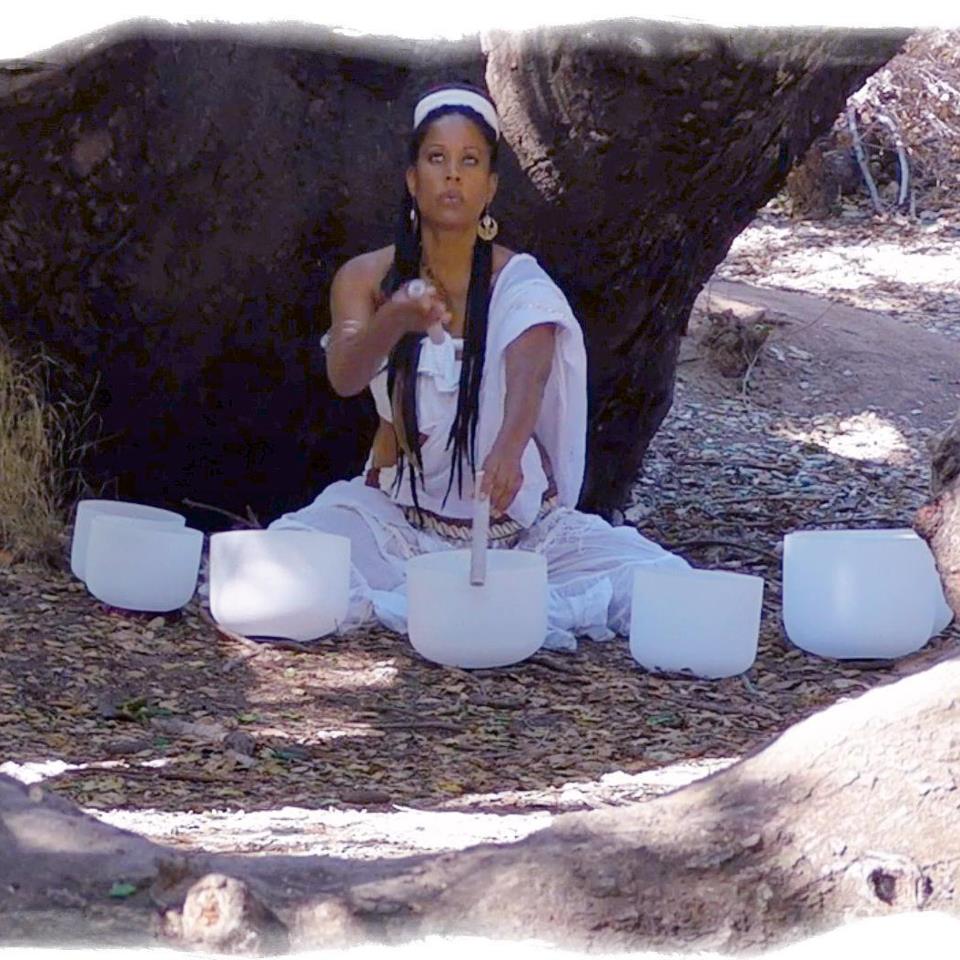 , vibrating at different frequencies. When out of rhythm, disease and disharmony results. Vibrational sound healing addresses imbalances or blockages of the energy channels. The body can heal itself when given the proper frequencies. Explore various Vocal Sound Healing techniques including chanting, toning ancient healing sounds for balancing the organs, chakras, energy field and for manifestation.

"Thank you Heather for the amazing, transformative sound healing yoga. I love love it!!! ;) you are a powerful and amazing Goddess! Oh and I love my CD's too! Namaste ♥ " ~M. Portillo
"Heather and Donny integrate sound and yoga with a practice that makes sacred vibration accessible to all!" ~L. Godwin
"Very healing, energizing and purifying." ~ M. Nipper
Crystal Singing Bowl Healings   
 There are those that believe Crystal Singing Bowls are an ancient Lemurian
and Atlantis healing technology that is resurfacing.  Crystal acts as an oscillator, magnifying, and transmitting pure tone. When the bowls are played the sound penetrates into our very cells and re-balances them through oscillation and entrainment. The vibrations move through the spine and diffuse along the nerve pathways to the organs, tissues and cells, in turn affecting blood circulation and metabolism. Crystal Singing Bowl therapy also helps to balance the hemispheres of the brain, the Sacred Energy Centers of the body and re-energize the auric field. Healing is thus made possible on all levels and an alignment with the Higher Self is created and grounded on a cellular level.



"It is always a great Inspiration to see You, Dear High Priestess. The Crystal Bowls are Alive, and You bring Their voices into Resonance, Their message to Our World for Peace, Love, and Harmony. Thank You for all that You do. Thank You for the Amazing Being that You Are!!!" ~ Dr. Enrico Melson
MYSTICAL ALCHEMY SOUND HEALING JOURNEYS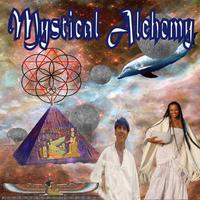 MYSTICAL ALCHEMY Prayerformances offer sacred ritual, HypnoSound healing, crystal singing bowls attunements and world music to elevate and empower the soul.  Guided by Black Swan Temple High Priestess Heather Salmon and Rev. Donny Regalmuto each prayerformance offers a unique journey into the realms of illumination for healing, divine guidance and inspiration!  

     "Absolutely glorious, was incredibly illuminating, peaceful and moving." ~ H.Young


"Soul travelers raising consciousness" ~S.LaRosa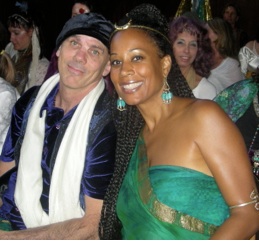 HEATHER SALMON and DONNY REGAL met in 2011 and
are a dynamic duo shakti/shiva union dedicated to inspiring the creation of a sustainable, just and peace filled World. Together they offer Sound Healing, Compassionate Communication, Lovers Language classes, workshops and retreats, Black Swan Mystery School teachings and weave Mystical Alchemy sonic journeys with world music in adventures into the realms of Illumination!
HEATHER SALMON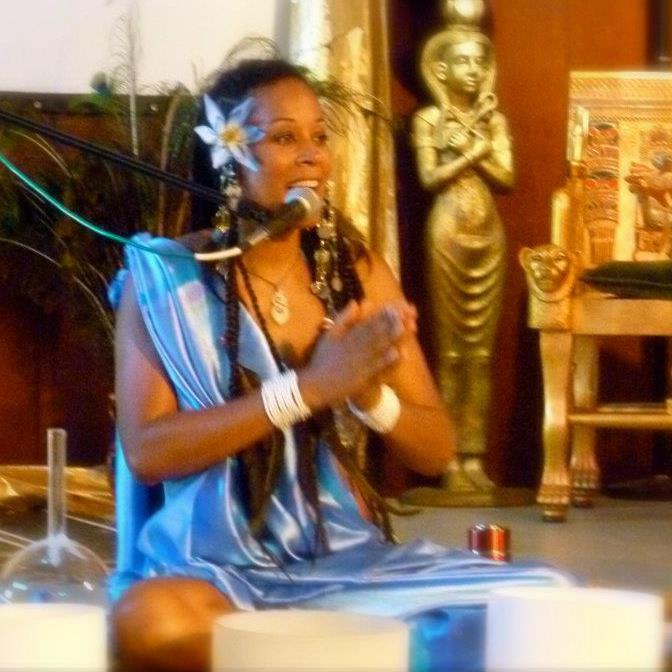 Heather Salmon is dedicated to fostering lifestyle and sustainability practices that support optimal health and wellbeing on all levels.  She is particularly known for her work as a sacred Sound Healer and transformational artist and is the visionary co-creator of the acclaimed Mystical Alchemy prayerformance group which have been showcased at numerous "transformational festivals" and distinguished venues around the country.  In 2009 Heather co-founded Mystical Alchemy with her beloved Donny Regalmuto and they relocated to Maui in December of 2012.  Until then, she was on staff at Harbin Hot Springs in Northern California as a yoga and sound healing teacher and a vegetarian/raw foods chef.  It was during her 5 ½ year residency at Harbin that she developed meditation, healing and breath practices that incorporated sound healing techniques to activate charkas, tone internal organs, and bring peace to the mind, body and spirit.  She has been practicing yoga for over 30 years and is certified in Anahata Yoga and studied at Toronto's Shivananda Yoga Center, as well as at Golden Bridge Yoga in Los Angeles where she studied Kundalini yoga extensively with the renown Gurmukh Khalsa and also sat with Yogi Bhajan.   Heather is extensively trained in the healing and performing arts and is  classically trained in ballet and is now primarily a spirit dancer! She is a certified Advanced Clinical Hynotherapist, Reflexologist, Aromatherapist, Reiki Master and is a Huna Initiate.  Heather is also the founder and High Priestess of the Black Swan Temple and runs a mystery school.  She is an ordained minister of the Essenes and priestess of Isis. Raised by visionary civil rights activist parents, Heather brings a depth, creativity and cellular knowledge to her work that is very powerful and deeply rooted! The Black Swan Temple, is a Project of Inquiring Systems, Inc. a California 501(c)(3) Corporation - Founded in 1978
www.MysticalAlchemy.net
www.BlackSwanTemple.org
DONNY REGAL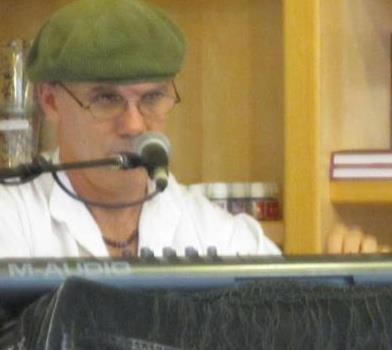 Donny Regal works with music as a spiritual source of inspiration, healing and spiritual awakening. He has provided musical support for spiritual events, ceremonies, dances and Tantric pujas for the last twenty five years and has worked with Sophia and other spiritual recording artist as a producer and musician to create many Spiritual and New age albums. He has studied the work of Margo Anand, Lori Grace Star and Mantak Chia and Marshal Rosenberg, Robert Gonzales and has been integrating this work into his intimate relationships for many years. He is highly versed in Compassionate Communication and is constantly integrating it into his Tantric practice. He is the developer of "The Lover's Language."
A long time Maui resident in 2009 Donny left Hawaii and moved to California and then to Middletown to be with Heather next to Harbin Hot Springs. Currently, Donny and Heather split their time between Maui and California where they teach classes, workshops and offer retreats as well as multimedia music, dance and sound healing rituals, New Moon Sound and Energy Healing Ceremonies for World Peace. He is fulfilling his dream is to perform sacred musical theater with his beloved to inspire and uplift humanity. www.MysticalAlchemy.net
We are honored to be hosting you during this powerful time on the planet!
We are envisioning a glorious time!
Please let us know if you have any questions!
Peace & Blessings,
Heather, Donny and Scott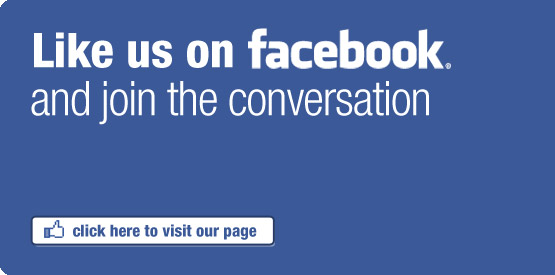 Where

Maui Yoga Path @ the Mana Kai Resort
2960 South Kihei Road
Kihei, HI 96753


Weekly Event - Every Sunday: 5:00 PM to 6:30 PM (HST)
Add to my calendar
Vibrational Sound Healing Class @ Maui Yoga Path ~ Kihei