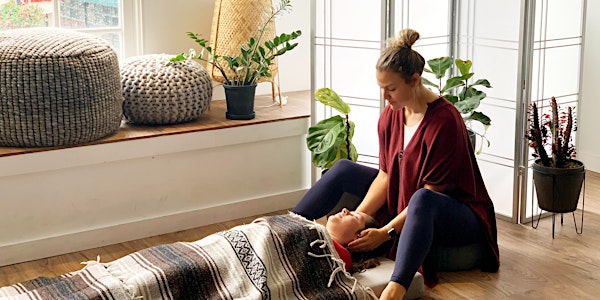 VIBRATE HIGHER | RELEASE: Breathwork + Reiki + Meditation | NYC Pop-Up
When and where
Location
HUB SEVENTEEN at lululemon Flatiron 114 5th Ave New York, NY 10011
Description
What is holding you back from living the life that you want? Release it here.
Release emotion and negative thought patterns through disruption of body and mind during this special pop-up visiting class at Hub Seventeen at lululemon Flatiron.
RELEASE offers a personal journey of self-discovery and stress relief. Breathwork, an active meditation technique, Reiki, facilitated energy movement, and guided meditation will be used to cultivate improved mental and physcial well-being. By intentionally changing breathing patterns, emotional release will be facilitated, promoting deep relaxation and increased energy after.
Release what is no longer serving you and create space for the life that you want. RELEASE invites you to settle your body in order to explore your mind. The class involves no movement. Mats or meditation beds will be provided.
WHY VIBRATE HIGHER?
Everything has an energy, a vibration. To "vibrate higher" means to tap into your inner power, unleash it and open yourself to living your best life. Disrupt your body and mind. Let go of stories of the past. Move forward more towards the life that you want, the life that was intended for you. Through movement, meditation, breath, energy work and personal development practices, you can release those things you're holding onto that are not serving you, and tap into your power within to direct energy towards your goals. More information at vibratehighermovement.com
VIBRATE HIGHER COMES TO YOU BY MICHELLE LEE
Michelle is Founder and CEO of VIBRATE HIGHER, offering transformational healing through Yoga, Reiki, Breathwork and more. The purpose of VIBRATE HIGHER is to empower others to lead their best lives through offering experiences that bring together self-discovery and release within one's physical body and emotional self. As a Movement + Motivation Coach, Reiki Master and RYT-200 Yoga Instructor based in Washington, DC, Michelle is an intuitive teacher with a unique ability to blend studies of yoga, spiritual practice, mindfulness and science. She works to encourage you to pursue your fullest life and supports you with tools to get there.
Born and raised in Nebraska, Michelle first had an interest in the medical field, but soon realized that education could serve as a tool for disease prevention. As a teacher in Washington, DC public schools, she works in communities of trauma to mentor young people in their pursuit towards the lives that they want.
Michelle leads strategy and project management of community initiatives for lululemon. She has been featured on Self-Helpless, a top 100 iTunes and Spotify podcast, to speak about Reiki and the power of positive thinking, and continues to seek opportunities to both teach and learn on the topics of alternative healing, spiritual practice and expanding consciousness.