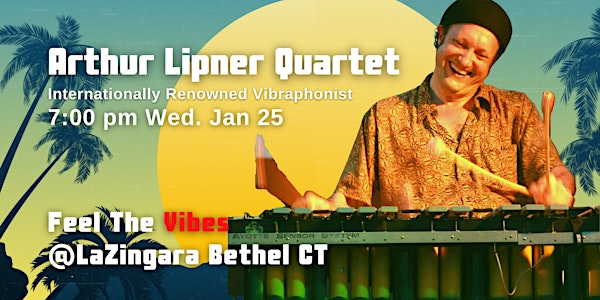 Vibraphonist Arthur Lipner Quartet Returns Jan 25 Dinner. 6pm, Show 8pm
"Arthur Lipner occupies a prominent role in the foregrounding of vibes and marimba in jazz and popular music..." jazzenews.com (London)
When and where
Location
La Zingara 8 P T Barnum Square Bethel, CT 06801
Refund Policy
Contact the organizer to request a refund.
Eventbrite's fee is nonrefundable.
About this event
Important: Seating and dinner orders will be taken beginning at 6pm. Please arrive at 6pm or earlier to be seated and to your order taken. Showtime begins at 8pm after dinner.
Please respect that this is a performance by seasoned, professional musicians. Many with Grammy and other awards to their credit. It's important out of respect for the performers and other patrons that there is no talking during the performance.
Very Limited Occupancy. Tables seating 2, 4, 5 guests, with tables for 6, 8, 12 available upon request. Single, general admission tickets are also available. See The Attached Seating Chart. Admission Is $15.00 - $20.00 Per Person, Ticket prices may be higher for special performances. Tables Of Two = $35., Four = $75., Five = &87.50 Six = $105., Eight = $130, Twelve = $210. Have problems with the ticketing system? Call 203-247-4273
"Lipner belongs to that rare category of master player that includes Oscar Peterson and Art Tatum…" Chronicle Herald (Nova Scotia)
"Arthur Lipner occupies a prominent role in the foregrounding of vibes and marimba in jazz and popular music..." jazzenews.com (London)
Arthur Lipner is a leader in his generation of vibes and marimba artists. His 80+ overseas tours include China & Russia (2019), 18 tours in Brazil, 5 to Mexico, and 40 to Europe. His legacy includes appearances on 50+ albums, books The "Vibes Real Book" & "Jazz Mallets: In Session", "Crystal Mallet", "Lime Juice", and much more. Arthur has presented 300 educational workshops on six continents from NYC's Juilliard to Moscow, London to New Zealand. He premiered his concerto "Mallet Fantasia" with the Nat'l Symphony of Brazil in Rio de Janeiro. About 100 Lipner compositions have been released on albums. His music has been licensed for tv shows and films around the world.
Lipner has constructed and played an ice xylophone in the mountains of Norway, performed in Rio de Janeiro's Carnival, on a stone marimba in rural Iceland, at Marimba Park in Chiapas, Mexico, and much more. These and many other inspirational scenes are featured in the documentary "Talking Sticks." Released in 2016, this highly acclaimed film discusses the history of vibes and marimba, exploring the roles they and creativity play in various cultures. Talking Sticks was filmed on location in Ghana, Mexico, Iceland, Brazil, Norway, and, USA. Interviews include Gary Burton, Mike Mainieri, and Ney Rosauro.
Arthur has been an NYC session player for over 30 years. His discography includes a bluegrass album, the Russia Tuvan throat singers "Alash," seven albums recorded in Brazil, Chris Brubeck's Waterworks, and much more (see Full Press Kit). Arthur recorded nine solo albums on vibes, marimba, and steel drums for the NYC label Solo Sounds. In August '18, on a repeat tour to Australia, he adjudicated the first-ever "Australian Vibraphone Competition" in Melbourne. In August '19 he was the Guest Artist/Adjudicator for the 5th China Marimba and Percussion Festival in Datong, China. Other notable Lipner appearances have included adjudicating in St. Petersburg, Russia (2019), CBS/ABC/NBC tv, a concert for the King of Morocco (at The Royal Palace in Marrakech), and tv/radio throughout Latin America and Europe.
Open-minded and humble, Arthur gives thanks to the many opportunities he has been presented with his efforts to help music bring joy and togetherness to the world. Lipner's contributions to Jazz and Percussion continue to innovate, inspiring students and the general public worldwide. Arthur attended the Univ. of Delaware, the Univ. of North Texas, and The Juilliard School. Check out his YouTube channel!
Watch Arthur Lipner in Action…
On tour in Spain performing "Mango Man"
Live in Sao Paulo, Brazil "Lime Juice"
We're sorry, there are no refunds after tickets have been purchased. In the event of rain, snow, or other forms of weather which prohibit a performance, the performance date will be postponed and rescheduled for another date within a reasonable amount of time. If the new date is postponed, a future alternate date will be picked at the discretion of Bethel Jazz and the musical artist. The ticket holder will be notified of postponements, cancellations, and rescheduled dates via email. Tickets are non-refundable and may be transferred to another person in the event a purchaser can not make the rescheduled date. In the event, an artist cancels a date, and Bethel Jazz is unable to reschedule the artist, Bethel Jazz reserves the right to provide a substitute performer of equal quality without notice to the ticket purchaser. If a date is canceled and not rescheduled, Bethel Jazz will provide a refund (in some cases minus the Eventbrite fee) or credit for another performance at the choice of the ticket holder. Bethel Jazz will always do its best to accommodate for changes in seating, table sizes, or changes to tickets.