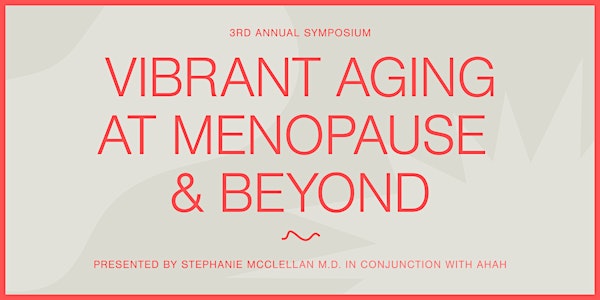 Vibrant Aging at Menopause & Beyond
When and where
Location
Newport Beach Country Club One Clubhouse Dr Newport Beach, CA 92660
Description
If, as Sir Francis Bacon suggested, knowledge is power then, absent events like this, menopausal women are destined toward intellectual impotence. There is confusion, chaos and contradiction in the clinical and scientific literature regarding the benefits versus harms of hormone therapy at the menopause transition and beyond.
Everyone agrees that the hormone changes a woman experiences at mid-life are persistent and profound. The debate centers around the impact of those changes and what, if anything, can or should be done to address them.
For the third consecutive year Dr. McClellan has brought together an impressive faculty, unique for a community program. The Symposium is designed to educate and inform those she professionally cares deeply about, women affected by these changes. Dr. McClellan firmly believes, based upon her years of seeing patients in this cohort, that these women have been massively underserved in their need for accurate and dependable information. Her advocacy encourages her to sort through the broad spectrum of marginal or non-factual rhetoric accessible to women and present instead rational clinical and scientific evidence-based information.The presentations by this year's faculty will provide attendees with the opportunity to hear directly and clearly from recognized experts in fields relevant to menopause and aging.
Be empowered!
—
Speakers Credentials
THURSDAY
Stephanie N. McClellan, M.D., FACOG; Chief Medical Officer Tia, Inc. New York; Founder OCGYN Private Gynecology and Women's Care Practice in Newport Beach, CA; Founder Gynecology and Integrative Women's Care PC, New York, NY; Co-author So Stressed
Rachel Rubin, M.D., Urologist and Sexual Medicine Specialist
Marty Klein, Ph.D., Certified Sex Therapist; Licensed Marriage and Family Therapist; Award -winning Author of Sexual Intelligence and six other books
Leah Millheiser, M.D., FACOG, IF Clinical Assistant Professor Director, Female Sexual Medicine Program Department of Obstetrics & Gynecology Stanford University School of Medicine
James A. Simon, M.D., CCD, NCMP, IF, FACOG; Clinical Professor George Washington University; President, International Society for the Study of Women's Sexual Health

FRIDAY
Carol Tavris, Ph.D., Social Psychologist, Co-author (with Avrum Bluming) of Estrogen Matters
Philip Sarrel, M.D., Emeritus Professor of Obstetrics, Gynecology, Reproductive Sciences and Psychiatry, Yale School of Medicine; Koerner Fellow, Yale University; President, The Advancing Health After Hysterectomy Foundation (AHAH), New Haven, CT
Stephanie Faubion, M.D., MBA, FACP, NCMP, IF Medical Director, The North American Menopause Society; Penny and Bill George Director, Mayo Clinic Center for Women's Health; Professor of Medicine, Division of General Internal Medicine, Mayo Clinic, Rochester, MN
Howard N. Hodis, M.D. Bauer-Rawlins Professor of Cardiology; Professor of Medicine, Preventive Medicine, Molecular Pharmacology and Toxicology; Director, Atherosclerosis Research Unit, USC Keck School of Medicine, Los Angeles, CA
Pauline Maki, Ph.D., Professor of Psychiatry, Psychology and Obstetrics & Gynecology, University of Illinois, Chicago, IL
—
Symposium Schedule
Sexuality and Sensuality: Desire, Passion, Performance
Thursday, Nov 7
7:00 - 8:00 Registration/Breakfast
8:00 - 8:15 Dr. McClellan: Opening Remarks
8:15 - 9:00 Rachel Rubin, M.D. Male and Female Sexual Anatomy and Function: What You Don't Know CAN Hurt You
9:00 - 9:45 Marty Klein, Ph.D. Sex and Menopause: Dead End or New Frontier?
9:45 - 10:00 Break
10:00 - 10:45 Leah Millheiser, M.D. Novelty is the Spice of Life: Sexual Enhancers for the Midlife Woman
10:45 - 11:30 Jim Simon, M.D. It's Natural to Lose Sexual Desire with Aging
But So too Are Farsightedness, Tooth Decay and Hemorrhoids: Knowing When Low Desire is a Problem and How to Fix It
11:30 - NOON Speaker Panel/Open Discussion Moderated by Stephanie McClellan, M.D.
Estrogen: Elucidating the Enigma
Friday, Nov 8
8:00 - 9:00 Registration/Light Breakfast
9:00 - 9:10 Dr. McClellan: Opening Remarks
9:10 - 9:30 Carol Tavris, Ph.D. Re-thinking Estrogen-Yes, Again! Navigating the Science and Politics of HRT
9:30 - 10:15 Phil Sarrel, M.D. Estrogen and Biological Existence
10:15 - 11:00 Stephanie Faubion, M.D. Compounded Bioidentical Hormone Therapy: Separating Myth from Fact
11:00 - 12:00 LUNCH
12:00 - 12:45 Howard Hodis, M.D. Estrogen Causes Breast Cancer! Or, Does It?
12:45 - 1:30 Pauline Maki, Ph.D. Women at Menopause: Changing Moods-Changing Brain
1:30 - 2:00 Speaker Panel/Open Discussion Moderated by Stephanie McClellan, M.D.