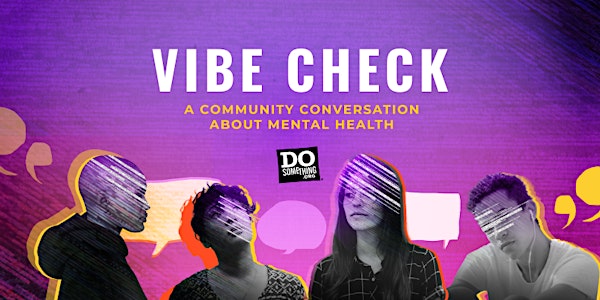 Vibe Check: A Community Conversation about Mental Health
Join us for a virtual discussion exploring the mental health crisis impacting young people today.
About this event
Taking care of your mental health is the most badass thing you can do. Powered by support from Blue Shield of California, DoSomething will create a welcoming and engaging space for young people to discover strategies and resources to support better mental health for themselves and their peers. Following the panel, we will be sharing our new resource featuring learnings from the discussion that they can use to deepen their understanding of their mental health journey and further conversations around mental health in their community.
Our discussion will include featured panelists:
Alexander Hardy – A grits-powered writer, Mental Health First Aid Instructor and wellness program facilitator, home cook, and lupus survivor. He battles spiritual ashiness as CoFounder of GetSomeJoy, a creative wellness agency that supports communities and organizations with joy-flavored experiences, trainings, and resources. Alexander has facilitated Literary Therapy Writing Sessions for over 1000 participants from over 20 countries and has written for outlets such as Ebony, CNN.com, Esquire, Food & Wine, Courvoisier, The Root, Saint Heron, and Very Smart Brothas. He does not believe in snow or Delaware.
Jasmine Lewis – A multi-intentional artist, scholar, mental health advocate, and vanguard of social change. Jasmine has served various communities through her work in building youth activism campaigns with DoSomething.org; crafting social strategies to diversify the media industry with NAL Media; organizing regional and nationwide civic engagement events and discussions with When We All Vote; serving as a Junior Advisory Board leader and emotional wellness/mental health advocate at selfmade; and now being the founder and CEO of the multimedia storytelling movement and community TALMBAT — all to build a more equitable and inclusive society using various perspectives across different industries.
Dr. Hisla Bates, MD - A Harvard trained Pediatric and Adult psychiatrist with over 20 years of experience in the diagnosis and treatment of severe mental illness and managed care. Dr. Bates has had additional training in Primary Care Internal Medicine at Yale School of Medicine. She has an integrative and holistic approach to the treatment of mental illness and completed a Fellowship in Integrative Psychiatry in 2020. She uses tools in Mindfulness, Positive Psychology/Psychiatry, and the Expressive and Creative Arts working with children and adults. Her Podcast is called Healer Heal Yourself, Reduce Burnout, Discover Your Creativity While You Heal Others deals with the intersection of art, creativity and medicine. This fall she will be an adjunct Professor at Centenary University, for the Master of Arts program in Happiness Studies with Dr. Tal Ben Shahar.
Isabel Nappa, LSW, MSW - A passionate therapist working in the private practice space. Isabel has served in a variety of settings as a social worker and mental health professional. Beginning her career as an Americorps service member working in the Lower East Side at a charter school and then transitioning to fieldwork as a School Social Worker, Isabel has found a passion for working with youth and young adults. Isabel prides herself on creating safe spaces for her clients and teaching people the importance of empathy and the human experience. Isabel specializes in helping people with anxiety, depression, life changes, relationship issues, trauma, grief, and school/work issues through CBT, Psychodynamic, Person-Centered, and Solution-Focused modalities. As a proud member of the LGBTQIA+ community, Isabel is passionate about assisting clients with identity acceptance. "It is through counseling that I have found peace in my own life and this journey has inspired me to empower my clients through their own therapeutic journeys."