Sales Have Ended
Registrations are closed
Unfortunately, registration for VI4 Annual Symposium is now closed. For questions or concerns, please contact vi4research@vumc.org
The research of infection, inflammation, and immunology has yielded important discoveries and breakthroughs this year - join the discussion!
About this event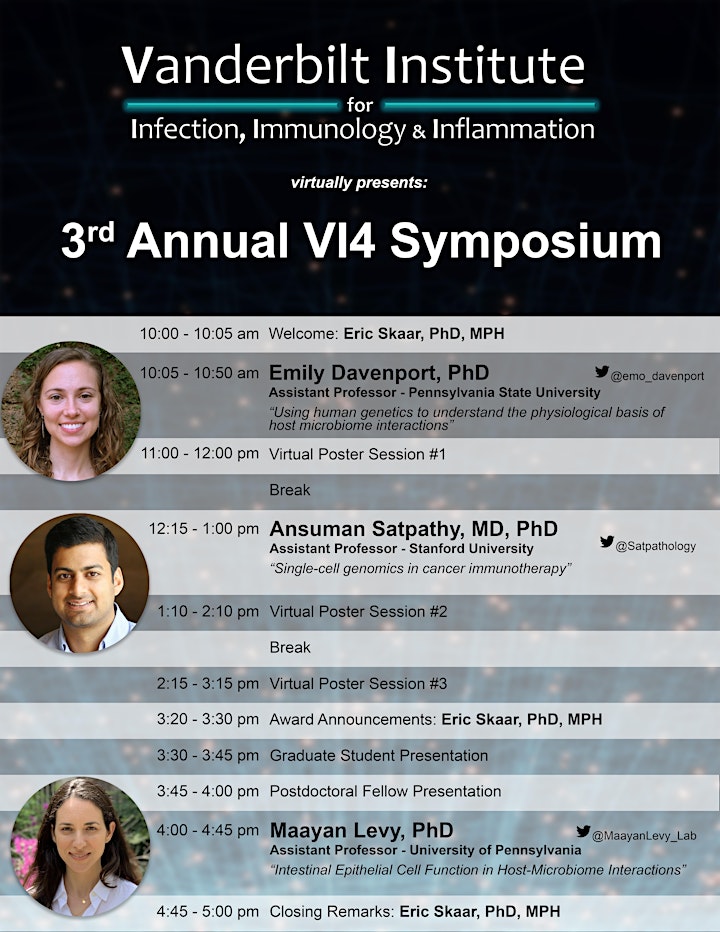 4/21/20 update: The VI4 Annual Symposium is going VIRTUAL! Receive regular updates by subscribing to the VI4 Newsletter.
You may submit an abstract by clicking here.
3/12/2020 update: The VI4 Annual Sympsosium has been postponed to June 9, 2020
We will send updated abstract submission and registration deadlines in the upcoming days, and will communicate any other changes regarding the event as they become available. If you have questions, please email megan.schladt@vumc.org or vi4research@vumc.org.
The Vanderbilt Institute for Infection, Immunology and Inflammation Annual Symposium brings together hundreds of researchers, across the VU, VUMC and MMC campuses, with interests in clinical and basic science, aspects of infectious disease, immunology, inflammation, and microbiology. This day-long event features internationally recognized speakers from other highly-regarded institutions, with expertise in diverse aspects of infection, immunology and inflammation.
Combined, this exceptional group of speakers promises a vibrant and diverse program that highlights cutting-edge research in the areas of infection and immunology. Registration is complimentary and includes lectures, poster sessions, and an extraordinary day of science, collegiality, and community.
Click here to submit an abstract for poster sessions. Additionally, we will be selecting two trainees to give presentations on their abstracts.
Registration closes June 1, 2020.