Description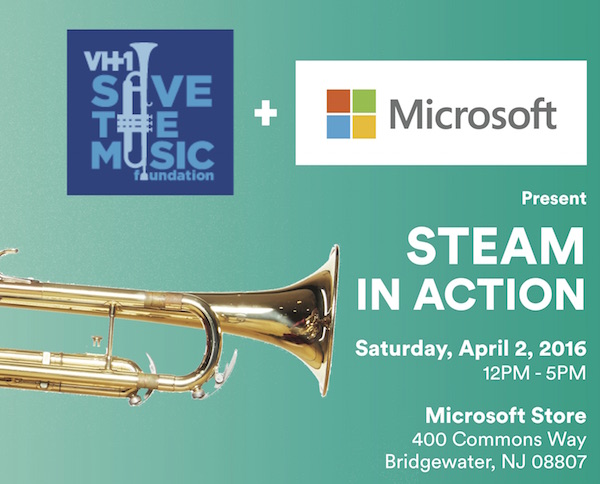 VH1 Save The Music + Microsoft have partnered up to create a fun event for all ages inspired by our efforts to promote STEAM Education.
Most people know of "STEM" education, highlighting the importance of Science, Technology, Engineering, and Math in the modern world; a new movement is taking shape adding a vital, missing piece: the ARTS!
STEAM adds the "Arts" to showcase how a complete education involves creativity and design!
As long time arts advocates, VH1 Save The Music is very proud to support the STEAM movement.
Now, on April 2nd, Microsoft aides in our efforts, co-hosting a day of STEAM in ACTION!
This event is an opportunity to see how STEAM Ed. works, what it looks like, and how powerful it can be.
Booths will be set up around the store with different games, activities, and workshops incorporating STEAM in Action.


Select Microsoft volunteers will donate their time at the event. For every hour a volunteer works, Microsoft will donate $25 to VH1 Save The Music Foundation.
The VH1 Save The Music Foundation is a non-profit committed to ensuring that music instruction is a core component to a complete education. Since 1997, we have partnered with more than 1960 public schools in 233 school districts, giving 2.6 million children the tools and confidence to excel in academics and in life.
Featured Activities:
Fresh Paint Workshop: Learn how to make art on the Microsoft Surface Pro
This workshop combines the creative aspects of painting with the use of modern technology.
Project Spark Workshop: Learn how to build your own game or story with the powerful yet simple Project Spark App.
This workshop combines engineering, technology and design/creation bringing STEAM to life in the real world.
Stagelight App. Activity: Make music and record a song with Stagelight on the Surface Pro
This music-making workshop highlights the "A" in STEAM; see how music and technology come together.
More activities to be announced.
Snacks and drinks provided
DJ set all day
Come enjoy a fun filled day at the Microsoft store to learn about STEAM Education through
activities, workshops, and videos all discovering the importance of STEAM!
RSVP TODAY.