(VG) Norwalk - Omega Series #1 - Video Game Premier Challenge

Monday, April 20, 2015 from 6:45 PM to 11:30 PM (PDT)
Event Details
Official PLAY! Pokemon Video Game Sanctioned Event
2014-2015 Season
Premier Challenge Level - Omega Series

** 40 Person Capacity! Please Pre-register ** 
Official Pokemon Event Website Link
https://www.pokemon.com/us/play-pokemon/pokemon-events/15-04-000757/
Registration - 6:30PM-7:45PM
Round 1 Start - 8:00PM
NO BREAKS will be given during the swiss rounds due to quickness and lateness of the event.
Team Registration List Required!
Click Here to print your own to have ready ahead of time
Team check's and hack checks WILL occur randomly during the event.
ADMISSION FEES
Juniors (Born 2004 or later) - $5 or 100 Bulk Pkmn Cards
Seniors (Born 2000-2003) - $5 or 100 Bulk Pkmn Cards
Masters (Born 1999 or earlier) - $5 or 100 Bulk Pkmn Cards
To be payed CASH or via BULK
*No Energy/Trainers at location

2014-2015 Season Age Division Information
Juniors (born in 2004 or later)
Seniors (born in 2000, 2001, 2002 or 2003)
Masters (born in 1999 or earlier)

Tournament Format
Age Seperated Swiss Rounds w/ Top Cut
(Single Game Swiss | Best 2 of 3 Top Cut)
8 Players: 3 Swiss Rounds, Top 2 Cut
9-16 Players: 4 Swiss Rounds, Top 4 Cut
17-32 Players: 5 Swiss Rounds, Top 8 Cut
33-64 Players: 6 Swiss Rounds, Top 8 Cut
Double Battles (ORAS ruleset effective 1/1/2015)
Pokémon from his or her party of six to battle with. At the start of the battle, players send out the first two Pokémon in their party, making a total of four Pokémon on the battlefield. Game play continues until a player makes all four of his or her opponent's Pokémon faint
Only Pokémon Omega Ruby and Pokémon Alpha Sapphire Game Cards or downloadable versions are permitted for use.

VER 1.3 UPDATE REQUIRED! 
Team Construction Rules 
Players may use Pokémon from the National Pokédex, from No. 001–719, that are caught in the
game, transferred from a previous Pokémon title, or received at an official event or distribution

The following Pokémon may not be on a player's team:
o 150 – Mewtwo
o 151 – Mew
o 249 – Lugia
o 250 – Ho-Oh
o 251 – Celebi
o 382 – Kyogre
o 383 – Groudon
o 384 – Rayquaza
o 385 – Jirachi
o 386 – Deoxys
o 483 – Dialga
o 484 – Palkia
o 487 – Giratina
o 489 – Phione
o 490 – Manaphy
o 491 – Darkrai
o 492 – Shaymin
o 493 – Arceus
o 494 – Victini
o 643 – Reshiram
o 644 – Zekrom
o 646 – Kyurem
o 647 – Keldeo
o 648 – Meloetta
o 649 – Genesect
o 716 – Xerneas
o 717 – Yveltal
o 718 – Zygarde
o 719 – Diancie
A player's team cannot contain two Pokémon with the same Pokédex number.
Each Pokémon on a player's team can hold an item, though no two Pokémon may hold the same item.
A player's team cannot contain two Pokémon with the same nickname.
A player's team cannot contain a Pokémon nicknamed with the name of another Pokémon (for example, an Unfezant named "Pidove")
Pokémon may only use moves that have been learned through one of the following methods:
-- By leveling up
-- By TM or HM
-- As an Egg Move, through breeding
-- From a character in the game
-- A move already known by a Pokémon received at an official Pokémon event or promotion

Pokémon must be placed in the Battle Box.
Pokémon are allowed to Mega Evolve.
Pokémon above Level 50 are permitted, but they are auto-leveled down to 50 for the duration
of battle.
Players may use Pokémon with Hidden Abilities.
Blue Pentagon (originally called Kalos Native Pentagon) 
Pokémon used in the Standard Format must have a blue pentagon in the Pokémon summary screen.This indicates that the Pokémon was caught during regular gameplay, hatched from an Egg, obtained within the game, or was officially gifted in either Pokémon X, Pokémon Y, Pokémon Omega Ruby, or Pokémon Alpha Sapphire.

PRIZING & CHAMPIONSHIP POINTS (CP) INFO
Prizes vary between age groups due to average attendance/cost of entry.
Championship Point Distrubution (All age groups)
1st: 40 CP
2nd: 32 CP
3rd - 4th: 26CP
5th - 8th: 20 CP - Kicker 16
9th -12th: 14 CP - Kicker 32
13th - 16th: 8 CP - Kicker 32
All Age Group Prizes 

8 or less players in age group
1st
Portable USB Battery Charging Kit + 3DS Charging USB Cable

2nd 
Nintendo E-Shop $10 Card
9~19 players in age group
1st
Portable USB Battery Charging Kit + 3DS Charging USB Cable
Nintendo E-Shop $10 Card 
2nd 
Portable USB Battery Charging Kit + 3DS Charging USB Cable


3rd/4th
Nintendo E-Shop $10 Card


20+ players age group

1st
RARE Pika-zard Mega Tokyo Pokemon Center "Angry Face" Exclusive Plush (approx $60 value)
Portable USB Battery Charging Kit + 3DS Charging USB Cable
Nintendo E-Shop $10 Card 
2nd 
Portable USB Battery Charging Kit + 3DS Charging USB Cable
Nintendo E-Shop $10 Card 
3rd/4th
Nintendo E-Shop $10 Card 

*Other prizes can be added if bigger turnout and will be announced prior to event start
Pika-Zard Plush Design (approx 10inch tall)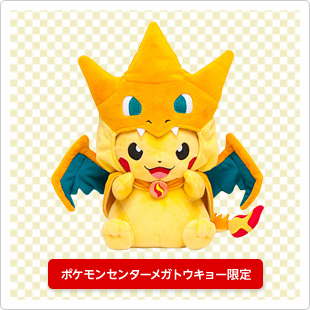 When & Where

McDonald's
10841 Imperial Hwy
Norwalk, CA 90650


Monday, April 20, 2015 from 6:45 PM to 11:30 PM (PDT)
Add to my calendar
(VG) Norwalk - Omega Series #1 - Video Game Premier Challenge