Location
Empirical Theater
1945 SE Water Ave
Portland, OR 97214
Description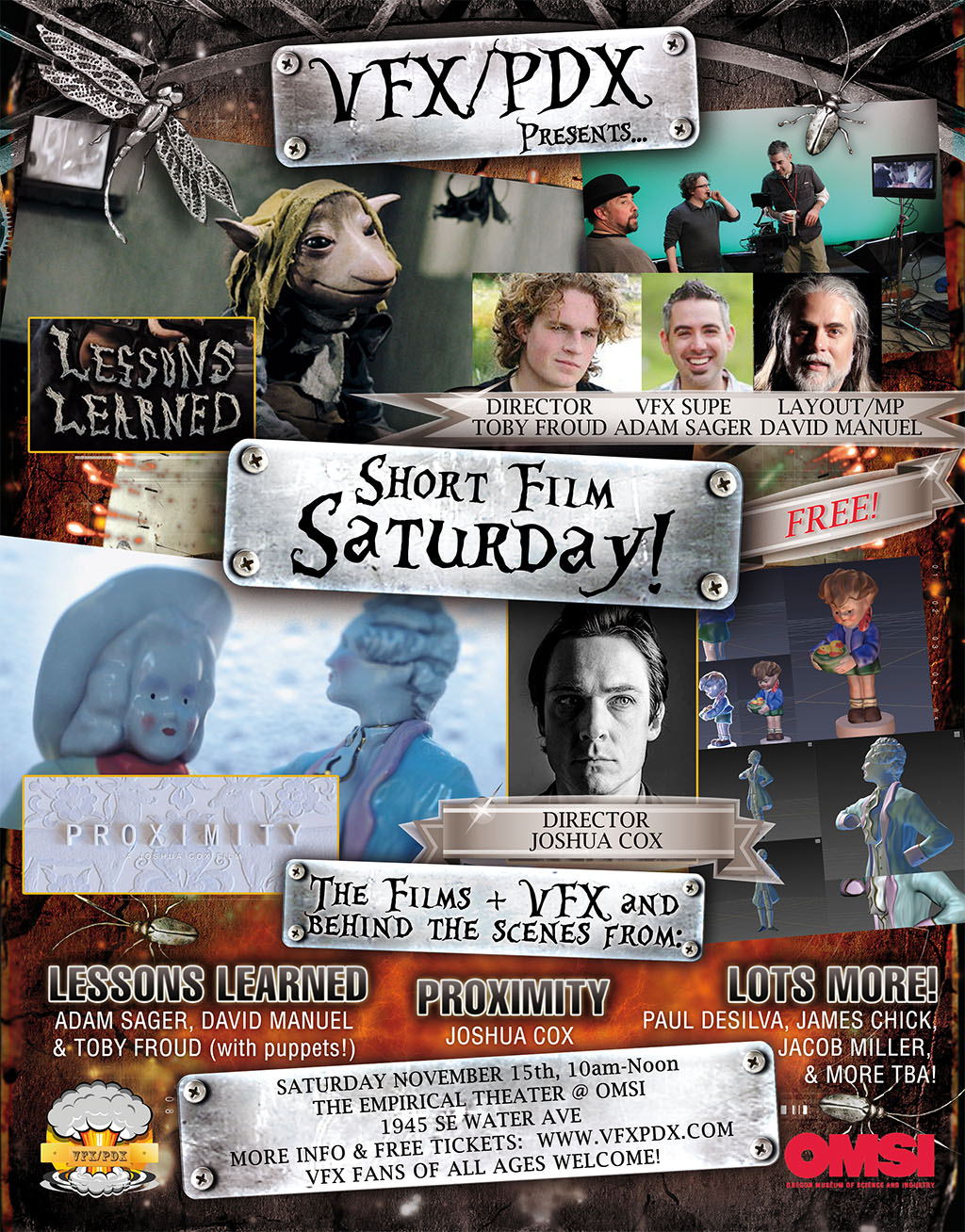 For the next VFX/PDX user group meeting, join us for a one-time-only screening and celebration of several visual effects, CG, and animation laden short films produced by Portland area directors & artists this past year. We'll screen the films and take a in-depth look behind the scenes at the tech and design work that went into each. Should be just the shot of inspiration we need as the time change brings on the long nights.
Presentations will include:
Lessons Learned
Director Toby Froud will be on hand, and on those hands may be a puppet or 2. VFX Supervisor Adam Sager and Matte Painter extraordinaire David Manuel will speak to the VFX magic and challenges that went into this fantastic film. Trailer
Proximity
Director Joshua Cox will present his captivating short that is best described as "a suspenseful romantic crime drama involving ceramic statues." His VFX breakdown will follow. Trailer
And much more!
Shorts from Kameron Gates/House Special (A Tale of Momentum and Inertia), Paul DeSilva (A Spark at Darkest Night), James Chick (Legend of Baby Chick), and Jacob Miller's Conception Trailer are slated to open the show, with more films TBA.
All shown on that legendary OMSI Empirical Theater screen and it's 4 stories of 4k projector + Dolby Atmos sound system glory. A sure fire great time on a Saturday morning! Worth noting that all of the films are safe for a younger audience, and that OMSI is graciously offering a $2 discount on admission to the museum and current Animation exhibit after the show - so feel free to bring any young, budding vfx artists in your clan and make a day of it! VFX/PDX meetings are always open to the public. Just be ready for some serious visual effects, we don't hold back!
Tickets are free - snatch them up right here, right now before the reservations sell out. See you at the show!
VFX/PDX Meeting: Short Film Saturday!
Saturday, November 15th, 10am-12pm
OMSI Empirical Theater
1945 SE Water Ave, Portland, OR 97214
more info: www.vfxpdx.com