VFX/PDX + AEPDX Meeting: NW Master Sessions w/Orland Nutt and Ben Luce!
When and where
Location
Ebay Community Lounge 1400 SW 5th Avenue, 3rd Floor Portland, OR 97201
Description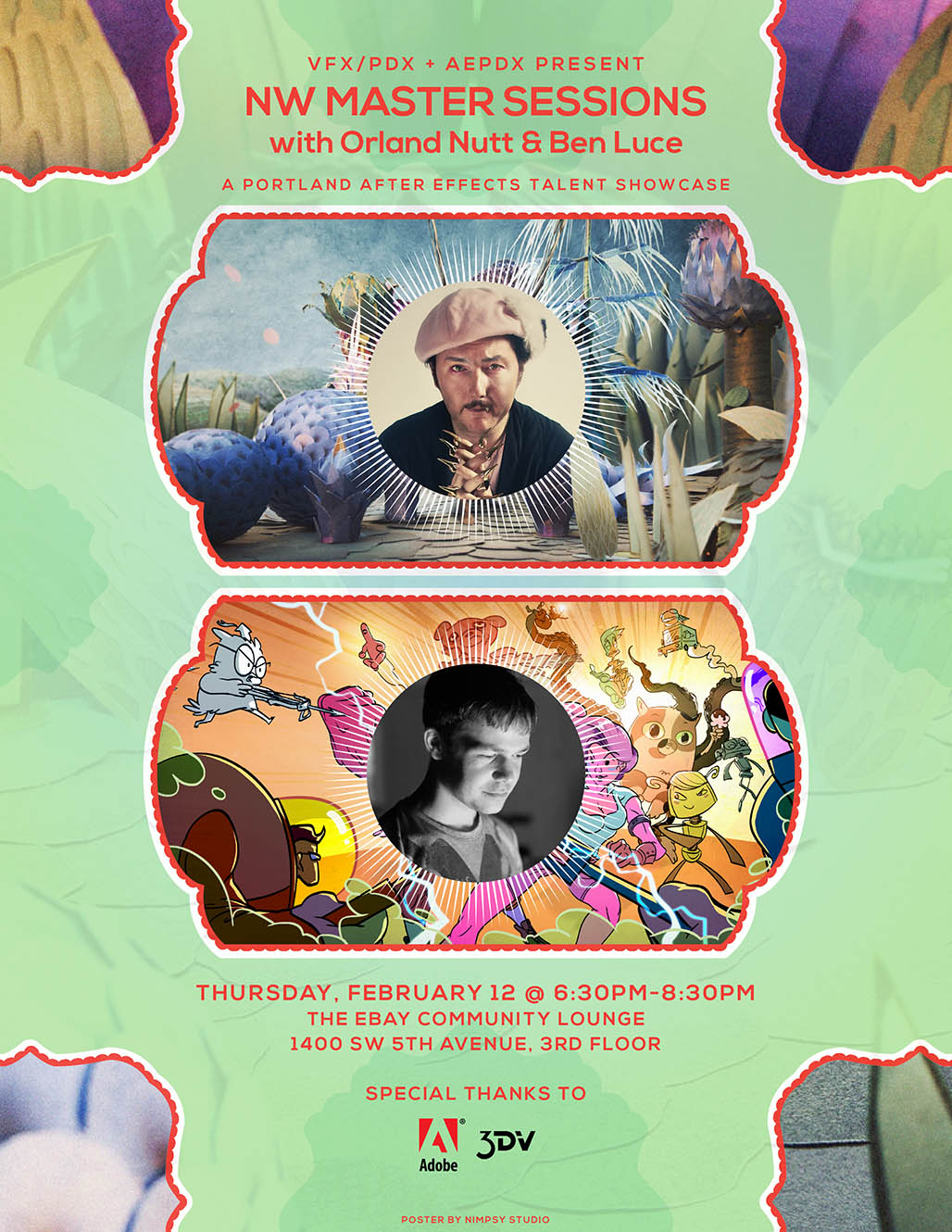 Following up on his amazing retrospective at NW Film Center this past summer, Orland Nutt will be screening his latest short film, "Bear of Heaven," among others, complete with behind the scenes and breakdowns. A CalArts grad and mainstay of Portland mixed media moguls Bent Image Lab, Orland has tremendous After Effects skills - that are used to great effect (pun most certainly intended!) when supporting his original creations.
Also on the docket is the young and talented Ben Luce, who's recent illustration and 2D animation continues to define his unique style. Hot off the heels of his AEMoji contest victory at Design Week last year, Ben has been abolutely on fire and will show some of his recent work and the techniques used - be ready to see Photoshop and After Effects teaming up like you never knew possible!
This is a one time chance to get a glimpse into the minds of two very bright stars in our Portland sky - be sure to step out for this one, or prepare for the agony of everyone raving about this afterwards! :)
Special thanks to software gurus 3DV for the use of their projector and Jamal Qutub for the great poster design above.
Thursday, February 12 @ the Ebay Community Lounge
1400 SW 5th Avenue, 3rd Floor
6:30pm-8:30pm
More info about the user groups: VFX/PDX & AEPDX
See you there!