Veterans of Foreign Wars and Its Auxiliary Western Conference 2021 Hosted by VFW Silver State Post 3396 and its Auxiliary . vfw3396.org
About this event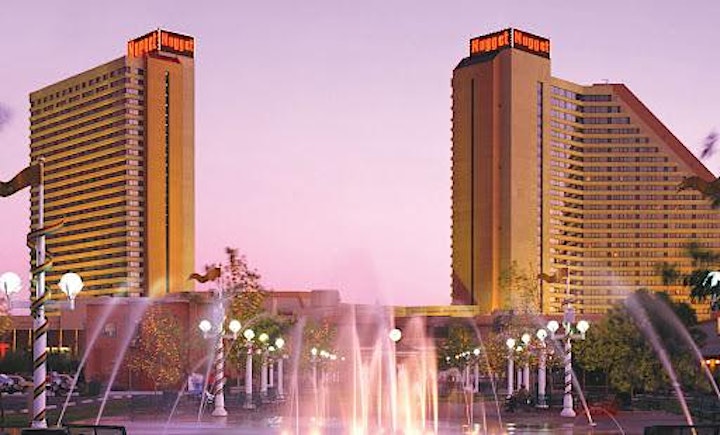 The Nugget Casino Resort is the Conference Hotel
Room Reservations Code: GVFW21
Call the NUGGET CASINO RESORT directly at 1-800-648-1177 TO RESERVE YOUR ACCOMMODATION and all Suites
CUTOFF DATE: Reservations will be accepted at the group rate until Friday, October 22, 2021. After this date, any unreserved rooms will be released into the general hotel inventory for resale.
Suites are available for a hight price - contact Nugget for room options
Resort Tower Single - Double
Thursday 11/4/2021: $49.00
Friday 11/5/2021: $89.00 Saturday 11/6/2021:$89.00
Sunday 11/7/2021: $49.00
RATE: The above rates are per guest room, per night, single or double occupancy, plus applicable taxes; currently 13.5% occupancy and $2.00 tourism surcharge. Taxes subject to change without notice. Additional persons will be charged at a rate of $10.00 per person, per night, with a maximum of four (4) persons per guest room.
RESORT FEE: A daily resort fee of $15.00 per room, plus room tax of 13.5% (tax is subject to change), will be charged in addition to the room rates set forth above. This fee includes: wireless internet, two bottles of water, fitness center and pool, airport shuttle, plus valet and self-parking.
Complimentary Ground transportation from the Reno/Tahoe International Airport (RNO)
THINGS TO DO WHILE IN SPARKS!
Victorian Square: The Nugget Casino Resort is surrounded by shopping, restaurants, brew pubs, and with historic points of interests.
Sparks Heritage Museum & Cultural Center: Admission is $5.00 (located blocks from Nugget Casino)
Engine 8 winery: Sparks will have a commemorative wine bottles with a logo for the 2021 VFW & Auxiliary Western Conference. Engine 8 Winery will have our logo wine and other selections available for tasting and purchase. They are located just across the street from Nugget Casino Resort. (Details TBD)
Mari Chuy's Mexican Kitchen: Providing Kitchen-style Mexican dining
Packs and Pints: Bar, Beer Store, Liquor Store, and Wine Shop has offered a 50-seat area available for our registered guests.
The Sparks Marina.: A 10-acre lake with waking trails and Nevada Memorial Plaza honoring our Nevada War Dead.
Nugget Casino Resort Opportunity:
Potential Slot Tournament for all Guests on Thursday
BINGO – Open FRIDAY - TUESDAY - SESSIONS AT 10AM, 12PM, 2PM, 4PM, 6PM plus FRIDAYS & SATURDAYS AT 8PM - The Nugget Casino Resort offers five sessions of bingo Friday-Tuesday starting at 10am plus an additional 8pm session Friday & Saturday. The 150-seat Bingo Hall, located on the main casino level, features promotions like Cash Balls at every session, Progressive Coveralls, and chances to win free bingo. All this makes the Bingo Hall at the Nugget the place to be for all your bingo action! We offer paper packs and electronic-play stations.
RENO-TAHOE
The National Automobile Museum is in Reno, Nevada. Has over 200 vintage automobiles, most vehicles displayed are from the collection of William F. Harrah. They are offering a special rate for VFW & Auxiliary Members. (Price: $8.00)
LAKE TAHOE is 45 minutes away amidst some of the world's most majestic mountain scenery and where winter skiing at is at its best.
VIRGINIA CITY is less than 30 minutes is where you can experience first-hand, the "Old West."
Organizer of VFW Western Conference 2021
The Veterans of Foreign Wars of the United States is the Nation's oldest major veterans' organization, The VFW has an impeccable and longstanding record of stewardship as our local post celebrates our 75th Diamond Jubilee helping our military and community. VFW Post 3396 has more than 300 patriotic Americans, both members and non-members, who dedicate thousands of volunteer hours for our community. We are a listed organization exemp uner Internal Revenue Code (IRC) Section 501 (c)(3). Donor can deduct contribution they make to the VFW Silver State Post 3396 under the IRC section 170. VFW Silver State Post 3396 EIN#: 83-1957300