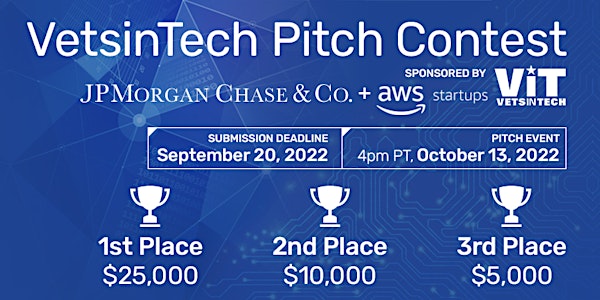 VetsinTech Pitch Contest 2022
Veterans and military spouses - submit your startup as part of the VetsinTech Pitch Contest
About this event
Join VetsinTech for a pitch contest and a chance to win up to $25,000!
On October 13th, VetsinTech will host a (virtual) pitch event, sponsored by JPMorgan Chase and AWS Startups, for 5 veteran, military, and spouse-owned startup businesses that will be chosen, in advance, as finalists.
Businesses in the start-up and growth stages are welcome to participate.
We are looking for early stage technology startups who are least 15% Veteran or Military spouse Owned.
PRIZES:
• 1st place prize: $25,000 (and $10,000 in Amazon AWS credits)
• 2nd place prize: $10,000 (and $5,000 in Amazon AWS credits)
• 3rd place prize: $5,000 (and $2,500 in Amazon AWS credits)
Those interested must submit an executive summary and this application due by September 20, 2022 at: http://zip2.it/vitpitch2022
Selected companies will have the opportunity to pitch and interact with a panel of VC and technology leaders from VetsinTech's partner ecosystem.
See official rules: http://zip2.it/pitchrules2022
This virtual event is free and open to the public. RSVP to receive a link to livestream the final live pitch presentations and award event on Oct 13, 2022.
DATES/TIME:
September 20, 2022: Submission Deadline
September 30, 2022: Selection of up to 10 Semi-Finalists
October 5, 2022: Selection of 5 Finalists
October 13, 2022: Live Pitch Event (with 5 Finalists)
Location: Online event (Hopin Platform)