VETRAISER - an experiential fundraiser for Veteran transformation
Description
"My heart beats with true intention and faith in the future for the first time since I left the service." – Navy Veteran (OIF), 2017 Veterans Vision Fast
---
Our community is calling for your support! Please join us for the 1stt ever School of Lost Borders Veterans Vision Fast Vetraiser!
Every dollar raised at this community gathering will directly sponsor eleven veterans who have courageously answered the inner call to embark on a 12-day transformational journey on May 8- 19, 2018 in the wilderness of Eastern Washington.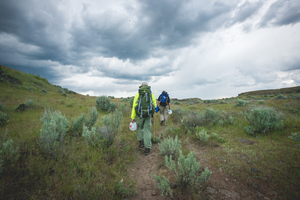 With 20+ veteran suicides per day, it is no secret our current methods of welcoming our brothers and sisters home from service are ineffective at best….
Many of our veterans continue to suffer in silence.
The Veterans Vision Fast program is at the forefront of holistic healing and veteran empowerment; A timeless journey for our modern warriors to reclaim their true selves…
Seattle University is conducting an ongoing independent study of our wilderness based transformational experience and the empirical evidence and preliminary data from our 2017 program show unprecedented outcomes…
Together we have the unique opportunity of supporting this next cohort of veterans who have taken the first courageous step forward towards healing from the wounds of service and in breaking the cycle of suffering in silence.
Our time together will include stories of veterans who have walked the razor's edge between death and one more day. Who have found a way to move through the challenges of transition by fearlessly cultivating the goodness in themselves by establishing a new inention for their lives.
It costs an average of $8,300 a year to provide a Veteran with conventional treatment for PTSD. In comparison, it costs only $1,500 to send a Veteran through the Veterans Vision Fast program with impact that can last a lifetime.
Everyone is welcome to this community gathering-- donations will be accepted at the door and throughout the afternoon.
Thank you!