Location
Parris Hill Park - San Bernardino
1135 East Highland Avenue
San Bernardino, CA 92404
Veteran and community homeless outreach, Services, Resource event. We will help.
About this event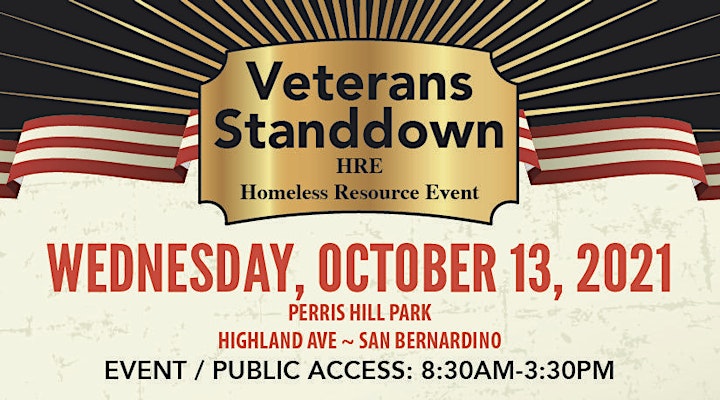 The Standdown (Standdown 2022) and Homeless Resource Event. , is a community-based intervention event created to make a positive impact in the lives of the at-risk and homeless population.
The Standdownand Homeless Resource Event is a collaborative partnership of local city, county, state and federal organizations all providing services to those in need. Key support from San Bernardino County Veterans Services, VA Loma Linda Veteran Health Care System, Salvation Army, United Way, Goodwill and other community service providers.
Services Provided:
•Food•Hygiene items•VA Enrollment in healthcare•VA claims processing•Jobs•Training•Education•Pet services•Employment opportunities•Legal Services•Public Health Support•Housing•Department of Motor Vehicles' assistance•Social Security support•Dental services• Veterans Court•Military records•Support groups