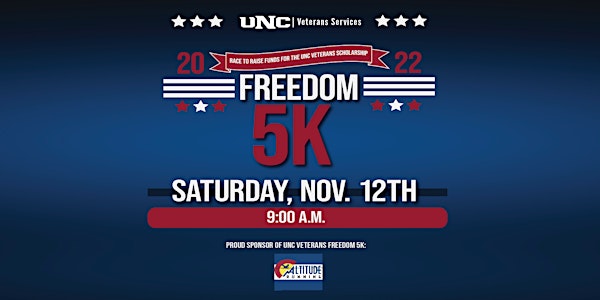 Veterans Services Fall 2022 Freedom 5k
A fun 5k on UNC's Campus to raise money for the Veteran Scholarship Fund and bring physical activity to the Northern CO community.
When and where
Location
Roudebush Cottage - Veterans Services 1815 8th Avenue Greeley, CO 80631
About this event
This year UNC Veterans Services is hosting the fifth annual Freedom 5K on November 12, 2022. The run replaces the Military Challenge, and is a 3.1 mile route of obstacle-free running that is open to walkers, runners, ruckers, children, strollers, and 4-legged furry friends! Bring a heavy ruck if you want to show off your strength. The event will begin promptly at 0900, so please arrive by 0845. There will be one (1) aid station approximately halfway through the course, and there will be beautiful views the whole way!
The course begins at Roudebush Cottage on Central Campus (located between Gray and Crabbe Halls) and concludes at the UNC Bear Pepsi Fan Fest Tailgate Area. Please join us for tailgating and the military appreciation football game after! The registration cost benefits the UNC Veterans' Scholarship fund. Please join us on this fall morning for a fun run/walk/ruck, festivities, and football game. The race will go on no matter what the weather has in store, so please be prepared and dress accordingly!
PLEASE NOTE: This registration is a placeholder for actual ticket purchases, which will be done through the University of Northern Colorado. More details on that registration to come.