Description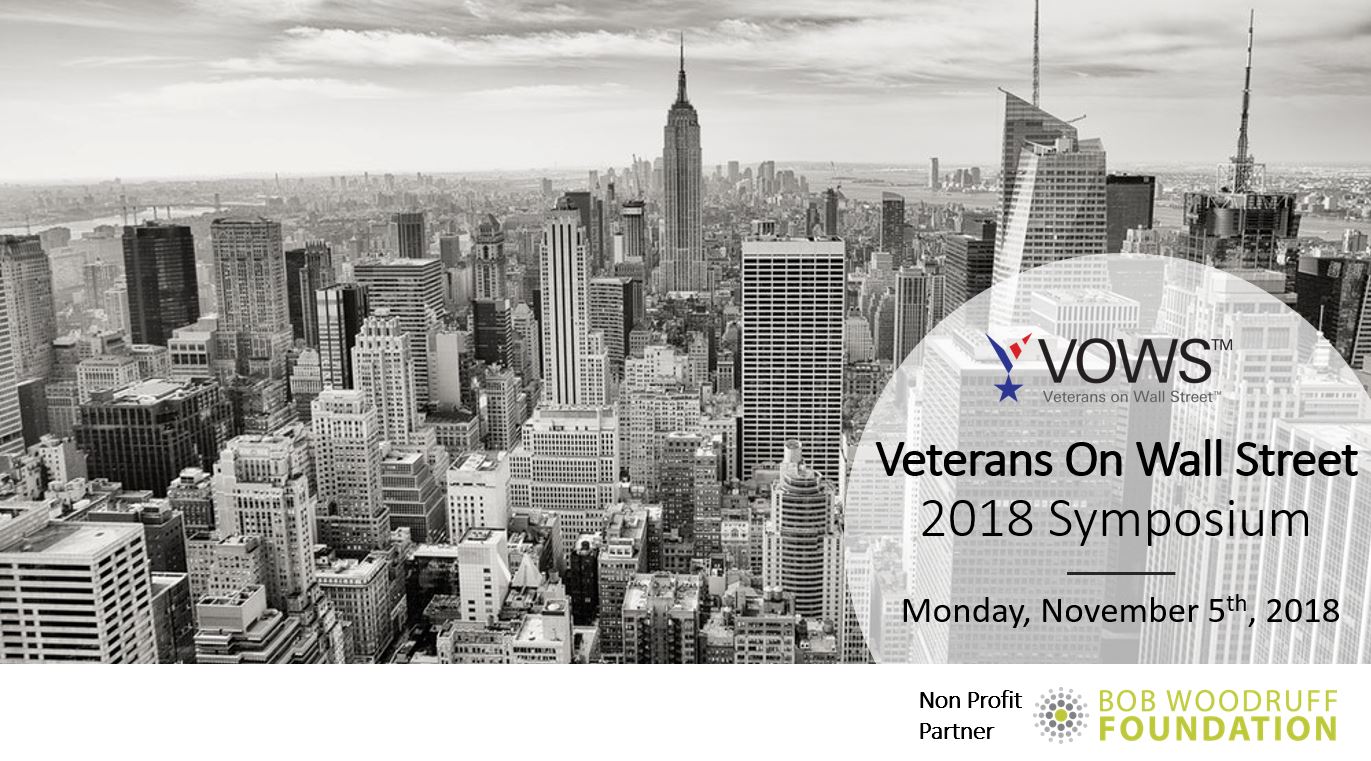 About the 2018 Veterans on Wall Street Symposium
The 2018 Veterans on Wall Street Symposium brings veterans and military spouses together with corporate leaders from the financial industry and beyond, government/military representatives, and veteran/military support organizations. The Symposium is designed to convene leading thinkers and stakeholders to discuss and explore the key issues related to veterans transitioning into the civilian workforce with a targeted focus on veteran retention. The Symposium hopes to elevate awareness and solicit broader attention to military employment initiatives, furthering the conversation and amplifying our concerted efforts and collective impact.
Event Details
November 5, 2018, 8:00 am – 5:00 pm

Fordham University School of Law
150 West 62nd Street New York, NY 10023
Featured Speakers
General Martin Dempsey, U.S. Army 18th Chairman of the Joint Chiefs of Staff
Loree K. Sutton, Commissioner Division of Veterans Services, NYC

Bob Woodruff, ABC News The Bob Woodruff Foundation
---
Non Profit Partner
---
Frequently Asked Questions
When and where is the VOWS Veteran Symposium?
November 5th
8:00am-4:30pm
Fordham University School of Law, Lincoln Center Campus
150 West 62nd Street, NY, NY 10023
How do I register for the Symposium?
Visit VOWS2018.eventbrite.com
and select if you will attend as a military affiliated job seeker or a corporate representative to be routed to the appropriate registration questions.
Who should attend the Symposium?
We encourage active duty personnel (who are considering leaving the service), reservists, veterans, military spouses, and corporate employees to attend the Symposium. The panels will be dual-geared to address transitioning challenges for veterans as well as hiring and retention challenges for companies.
How much does it cost to attend the Symposium?
Zero. There is no cost for anyone to register for the Symposium.
Will there be a hiring fair in the afternoon as in past years?
No, there will not be a hiring fair in the afternoon this year. Instead, afternoon sessions will be interactive sessions, including LinkedIn workshops, resume reviews and networking between veterans/military spouses and corporate representatives from VOWS companies.
What is the attire?
The attire for the day is business dress, or equivalent service uniform for service members who wish to attend in uniform. Note: There will be prospective employers present so if you plan on speaking with them, you should consider dressing as you would for an interview.
How do I provide my resume to VOWS companies?
While VOWS companies will not be collecting resumes at the Symposium, you can email your resume to: vowstalent@bobwoodrufffoundation.org. Representatives of VOWS companies can view this resume depository throughout the year and are notified of new uploads. Also, please bring several (5) hard copies of your resume to the event.
What do I need to bring to the Symposium?
If you are a veteran or military spouse and want to have your resume reviewed, please bring a hard copy with you. If you plan to participate in the LinkedIn session, please have a profile created and bring your mobile device with you. You may also want to bring business cards.
What is the best subway stop?
Take the 1 or 2 Subway Line to 59th Street - Columbus Circle Station, walk North on Broadway and then West on 62nd Street (away from Central Park). The Law School building will be on the South side of 62nd Street.
Is there parking available?
The area around the Lincoln Center includes a number of public parking garages. There is no parking provided specifically for this event; however, Fordham University has relationships for reduced parking costs with validation. You can get more information here: https://www.fordham.edu/info/20144/parking_facilities/283/lincoln_center/1
Is the Symposium space wheelchair accessible?
Yes, the Fordham University School of Law is completely wheelchair accessible. The registration page contains a drop down to alert us to any accessibility or participation concerns you may have.
Will lunch be served?
Box lunches will be provided. The registration page contains drop downs for alerting us to any dietary needs. We will do our best to accommodate dietary needs.
For all other questions, please refer to www.veteransonwallstreet.com/benefits or contact Melissa Scatena at Melissa.a.scatena@us.hsbc.com or send your queries to vowstalent@bobwoodrufffoundation.org.