Description
Capital Factory welcomes you to our inaugural Veterans in Tech Summit on September 17, 2019. Capital Factory is committed to increasing diversity in the tech community and making our coworking space an inclusive and welcoming environment for all backgrounds and identites.
The Veterans in Tech Summit is a half day event full of programming to help inspire, engage and elevate veteran entrepreneurs, tech professionals and allies through insightful panels, interactive workshops, networking and epic office hours.
What are Epic Office Hours? Consider it speed dating with influencers. Some of the most successful entrepreneurs, top figures and investors will be here for lightning round mentor sessions with YOU!
Apply using this form. A few days before the event, you will receive confirmation if you have been accepted to participate.
WHO IS THE EVENT FOR?
Veterans in tech, veteran founders and the people who support and invest in them in the DFW community and beyond.
WHAT TO EXPECT
12:00PM - 1:00PM Registration, Networking & Optional CF Tours
1:00PM - 1:45PM Opening Remarks with Craig Cummings (Capital Factory) & Keynote Address with Jason Dempsey (MILLIE)
1:50PM - 2:35PM Empowering, Training & Employing Veterans Panel + Q&A with Russ Medina (NPower Texas), Tad McIntosh (HumCap), Robert Everhart (Accenture Federal Services), moderated by VR Small (Veteran Women's Enterprise Center)
2:45PM - 4:00PM Epic Office Hours (Application Only)
2:45PM - 4:00PM Roundtable Discussion Breakouts
- Networking in Tech 101 led by Johnathan Wojtewicz (Bunker Labs)
- Entrepreneurial Ecosystems for Veterans in Tech led by Craig Cummings (Capital Factory) and Jason Dempsey (MILLIE)
4:05PM - 4:50PM Transition from Service to Corporate: A Fireside Chat + Q&A with Adam Marr (Accenture), moderated by Sabrina Wojtewicz (Bunker Labs)
5:00PM - 6:00PM Bunker Brews Happy Hour powered by Bunker Labs
SPEAKERS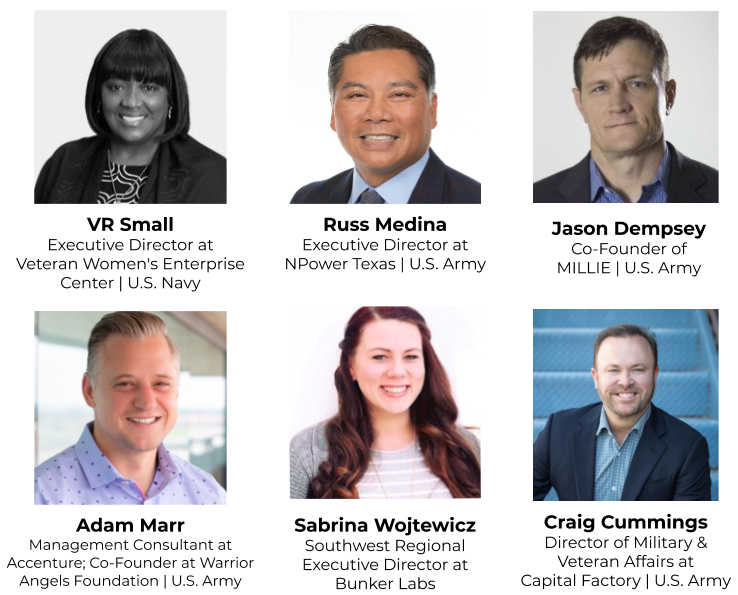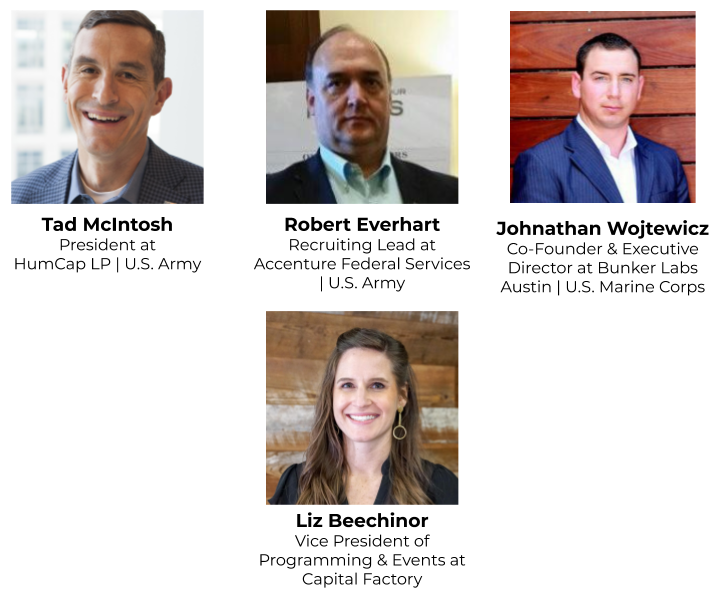 PARKING
For more information on Parking at Capital Factory please visit our website.
SPECIAL THANKS TO OUR COMMUNITY PARTNERS