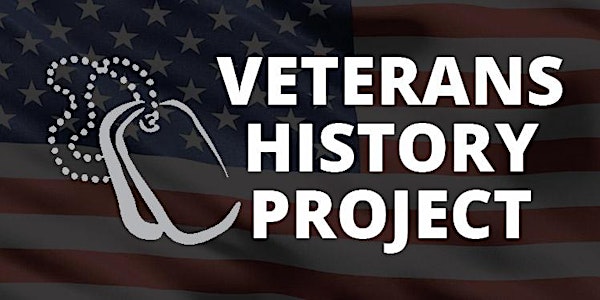 Veterans History Project (VHP) Community Training
When and where
Location
Pinckneyville Park Community Recreation Center 4650 Peachtree Industrial Blvd Community Room Norcross, Georgia 30071
Description
We invite veterans and their families together with the general public to attend community training for the Library of Congress Veterans History Project (VCP) to add veterans photos, letters, videos and oral histories to the Library of Congress digital archives.
The organization's website states:
"The Veterans History Project of the American Folklife Center collects, preserves, and makes accessible the personal accounts of American war veterans so that future generations may hear directly from veterans and better understand the realities of war."
There are a number of ways stories can be told including:
Personal Narratives - audio and video-taped interviews, written memoirs

Correspondence - letters, postcards, v-mail personal diaries

Visual Materials - photographs, drawings, scrapbooks
The Project collects first-hand accounts of U.S. Veterans from the following wars:
World War I, 1914-1918

World War II, 1939-1945

Cold War

Korean War, 1950-1953

Vietnam War, 1961-1975

Grenada--History--American Invasion, 1983

Panama--History--American Invasion, 1989

Operation Restore Hope, 1992-1993

Persian Gulf War, 1991

United Nations Operation in Somalia

Haiti--History--American intervention, 1994-1995

Operation Allied Force, 1999

Peacekeeping forces--Bosnia and Hercegovina

Operation Joint Guardian, 1999-

War on Terrorism, 2001-2009

Afghan War, 2001-

Iraq War, 2003-2011
This Urban Mediamakers program, in partnership with BlackGwinnett Magazine, is funded by the national initiative World War I and America of The Library of America presented in partnership with The Gilder Lehrman Institute of American History, the National World War I Museum and Memorial, and other organizations, with generous support from The National Endowment for the Humanities.