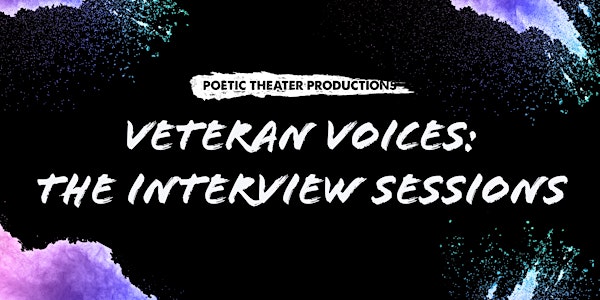 Veteran Voices: The Interview Sessions: Tara Krause
Discussion, work-sharing, and Q+A with poet and artist Tara Krause.
Refund Policy
Contact the organizer to request a refund.
Eventbrite's fee is nonrefundable.
About this event
On Saturday, May 8th, Poetic Theater Productions will present the next installment in Veteran Voices: The Interview Sessions, a series of intimate artist conversations interviewing veterans whose art as actors, poets, visual artists, and playwrights inspire us at Poetic Theater Productions. The series highlights the individuals behind the art, and the importance of art on their journey as veterans reintegrating into civilian life. In 90 minutes, fellow veterans Jenny Pacanowski (featured in NY Times, ABC, Turner Classics) and Omar Columbus (CA and NY poet and gallery curator) connect with the featured artist, share clips of past work, and share new works in development. Audiences are welcome and encouraged to ask questions. Join us and get to know the veterans (and family members of veterans) behind the voices you hear in Poetic's shows.
This week, we interview Tara Krause. Tara is an artist, printmaker, spoken word poet, and filmmaker with Frontline Arts and Warrior Writers NJ. She is also a disabled veteran and was an Army Captain in the nuclear cold war and first gulf war. She now micro-farms a reclaimed terroir of roses and aromatic plants in the mountains of New Jersey. When not painting large scale roses with her fingers, she is linocut engraving social justice printmaking pop-ups on handmade Frontline Paper reclaimed from combat uniforms and medical scrubs.
For more information about Tara and Poetic Theater Productions, check us out here.
To stay up to date on all of the things Poetic Theater Productions is up to, follow us on Instagram, Facebook, and Twitter @poetictheater.