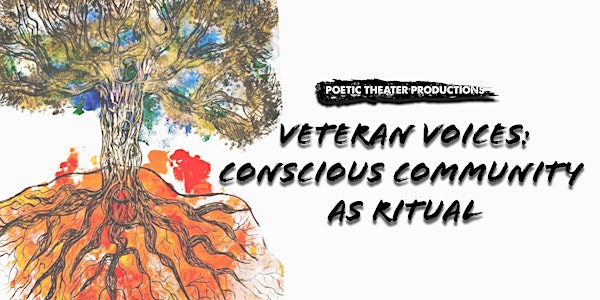 Veteran Voices: Conscious Community as Ritual
A pay-what-you-can reading of original work marking the culmination of six virtual workshops for veterans and the family members of veterans
Refund Policy
Contact the organizer to request a refund.
Eventbrite's fee is nonrefundable.
About this event
Poetic Theater Productions is proud to present a pay-what-you-can reading of original work by veterans and the family members of veterans, marking the culmination of a free series of online writing and performance workshops led and facilitated by fellow veterans.
Warrior cultures of the past such as the Greeks, Romans, and Native Americans welcomed their military home in rituals of storytelling. Following in that tradition, the Veteran Voices program seeks to create a compassionate environment for veterans and the family members of veterans to speak their truths, share their experiences, and bear witness together. Throughout the workshop series, we use writing and storytelling as tools to foster creativity, compassion, and camaraderie both among the participants and among the audience members of our final performance. Those with and without writing and performance experience are encouraged to apply. If you are interested in being a part of this series in the future, please find more info and apply here.
All tickets to the final performance are pay-what-you-can. We acknowledge that, now more than ever, many people are struggling financially. We will never turn away an audience member for lack of funds. That being said, please consider donating generously so that we can continue to offer programming like this. We are a non-profit, donation-based company and every little bit helps us maintain and expand our programming.
There will be a panel discussion with the participants after the event. Please consider sticking around on Zoom to participate in that.
This program has been developed by Jenny Pacanowski, Mary Jo McConnell, and Karen Alvarado. It has been curated by Jenny Pacanowski, Omar Columbus, and Drew Pham. Workshops will be facilitated by Jenny Pacanowski, Omar Columbus, Mary Jo McConnell, and Karen Alvarado. The program is being produced and stage managed by Kelly Teaford. Our Production Stage Manager is Ran Xia. PTP's Artistic Director is Jeremy Karafin. Social Media Management and Additional Marketing and Fundraising Support were provided by Daryl Bunyan. The creator-performers who have participated in this season's Veteran Voices workshop series and will be performing their original work are:
Based in NYC's historic East Village, the award-winning Poetic Theater Productions has produced 220 unique events and productions, working with over 1,130 artists including 440 poets and playwrights since its inception in 2010. We are committed to supporting the growing and expanding poetic theater artist community. You can learn more about Poetic Theater Productions here.
PTP has been presenting work by military veterans since 2012 in connection to the company's award-winning production of GOLIATH by Takeo Rivera. The current Veteran Voices program is a merging of Poetic Theater Productions' former annual Kicking Down Doors program curated by Jenny Pacanowski and Everett Cox (launched in the 2016 Poetic License Festival) and the Veteran Voices program initiated in the fall of 2017 (in collaboration with Consequence Magazine, Warrior Writers, War Literature & The Arts, and the Veteran Artist Program) presented with the 3-week run of J.A. Moad II's production of Outside Paducah: The Wars At Home.
About our Workshop Facilitators:
Karen Alvarado is a Latinx and Native American actress, director, teaching artist, and producer from Corpus Christi, Texas. After getting a Theatre BA from Texas A&M University, she enjoyed a professional acting career in Austin, Texas before moving to New Jersey to complete an MFA in Acting at Rutgers University Mason Gross Conservatory, and received classical training from Shakespeare's Globe in London. Karen is the Co-Artistic Director of Thinkery & Verse. Her work can be viewed at karenalvarado.com and thinkeryandverse.org
Omar Columbus is a photographer, poet, curator, facilitator, and an Air Force veteran. You can read more about his work here.
Mary Jo McConnell is an actor/veteran/resilience coach. She can be seen as Una in the series "Hunters" on Amazon Prime. Discover more at maryjomcconnell.com
Jenny Pacanowski is an Iraq war veteran who founded and is the director of Women Veterans Empowered & Thriving, a reintegration program utilizing writing and performance to empower veterans' experience and facilitate skills to thrive in daily life. You can find out more about Jenny here and about Women Veterans Empowered and Thriving here.
Event image adapted from artwork by Maria Salazar. You can learn more about her here.