Description
You are invited to join us for a student-led symposium on veteran health on Friday, April 5, 2019 from 1pm-5pm. This symposium is open to the public and will be held at The Bear Cave at UC Riverside in the Pentland Hills building. Parking will be free to the public. Parking will be in the Big Springs Parking Structure (https://campusmap.ucr.edu/?loc=BGSPK). Please follow signs that will direct you to parking and the venue.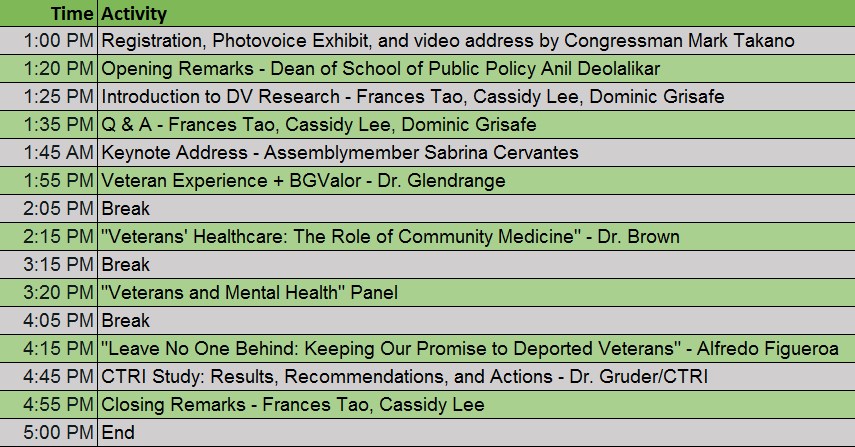 The symposium will showcase the voices of deported veterans through their own photos and words. How has deportation impacted their health? What are some of the things they want to communicate to policymakers? View the world through the lens of veterans who find themselves barred from the country they risked their lives for.

We encourage you to come early to register, browse the powerful photos taken by deported veterans, and watch the recorded address of Congressman Mark Takano, Chairman of the House Committee on Veteran's Affairs.

We are excited to announce that California Assemblywoman Sabrina Cervantes (CA-60) will be delivering the keynote address!

We will be joined by distinguished guest lecturer, Dr. Jeffrey L. Brown, of Cornell University. Dr. Brown is a leader in the field of veteran health. His lecture will detail the veteran experience and how communities can support veteran mental and physical health.
Our interactive speaking panel will include representatives from Project Refit, Deported Veteran Support House, and a UCR student veteran.
From the UC Berkeley School of Business, the Judith Lee Stronach Baccalaureate Prize-winner Alfredo Figueroa will present on his history working with deported veterans as well as solutions to address this issue at multiple levels.

Attendance and parking are free!
Food, beverages, and coffee will be served.
Thank you to our sponsors: