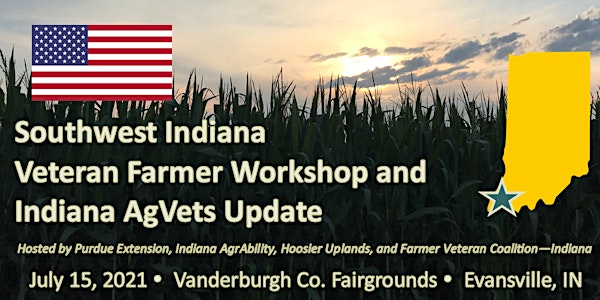 Veteran Farmer Workshop and Indiana AgVets Update - Evansville, IN
Location
Vanderburgh 4-H Center
201 E Boonville-New Harmony Rd.
Evansville, IN 47725
Open to all military veterans interested in agriculture, this event will feature AgrAbility and Farmer Veteran Coalition opportunities.
About this event
The Veteran Farmer Workshop and Indiana AgVets Update is a full day in-person event focusing on agricultural opportunities for military veterans. This program will continue on the success of our October 2020, January 2021, and April 2021 workshops.
This workshop will be held at the Vanderburgh 4-H Center near Evansville. Program hosts will be Purdue Extension educators from Vanderburgh and Posey Counties and the Hoosier Uplands Economic Development Corporation.
If you are a veteran interested in or already involved with agriculture or a current (or prospective) Indiana AgVet, don't miss this chance to learn, network, and enjoy time with fellow veterans!
Lunch will be provided, and there is no fee to participate, but pre-registration is required. Spouses or significant others are welcome (be sure to register for counting purposes)!
Planned topics:
- Indiana Grown and Homegrown by Heroes
- Purdue Extension resources for veteran and beginning farmers
- Direct marketing and agritourism opportunities
- USDA programs for farmer veterans (FSA, NRCS)
- AgrAbility, Farmer Veteran Coalition, Indiana AgVets Updates
Additional opportunity! Participants are encouraged to attend the SWCD's of Southwest Indiana Conservation Cookout immediately following the veterans workshop at the same location. Enjoy another great meal and learn about conservation of natural resources! Please register for the Conservation Cookout separately at https://www.eventbrite.com/e/conservation-cook-out-tickets-152739412695
COVID-19 safety protocols will be observed per current guidelines.
Contact ejsheldo@purdue.edu if you have questions about this event.
Purdue University is an equal opportunity/equal access/affirmative action university.  If you are in need of accommodations to attend this program, or have special dietary needs, contact Ed Sheldon at ejsheldo@purdue.edu or 800-825-4264 by June 5.