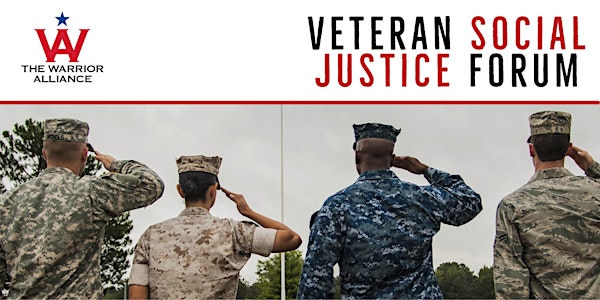 Veteran Community Social Justice Forum - Diversity, Equity, and Inclusion
An interactive discussion with the aim to inspire and empower the veteran community to take collective action against social injustice.
About this event
The Warrior Alliance is hosting a series of Town Hall Forums that identify issues/solutions facing the Veteran Service Organization (VSO) community amidst the social unrest. We aim to inspire and empower these organizations and our veteran community to take collective action to strive towards improved racial and social justice in our community.
The Town Halls Series will focus on four critical pathways for change:
Diversity, Equity, & Inclusion in the VSO sector (September 15th)
Social Activism & Community Engagement (TBA)
Advocacy & Legislative Solutions (TBA)
Framing the Narrative/Telling our Story (TBA)
Purpose
The purpose of the event is to challenge the VSO community to take demonstrative action towards building greater diversity, equity, and inclusion within their organizations.
Panelist & Moderators
Moderators
Mary Tobin, Veteran & Social Justice Advocate
Stewart Williams, V.P. of Operations at The Warrior Alliance
Panelists
Sue Schmidlkofer, Director of Global Workforce Diversity and Inclusion at UPS
Vivian Greentree, Senior Vice President & Head of Global Corporate Citizenship at Fiserv
Rodney Bullard, Corporate Social Responsibility Vice President & Executive Director at Chick-fil-A Foundation
Learn more about The Warrior Alliance.