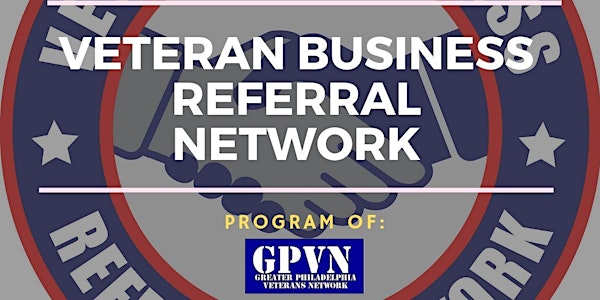 Veteran Business Referral Network - New Jersey (October 2022)
Are you a Veteran looking to grow your business leads? Why not connect with other Veterans who share the same values and drive to succeed?
When and where
Location
Holiday Inn Philadelphia-Cherry Hill, an IHG Hotel 2175 Marlton Pike West Cherry Hill, NJ 08002
About this event
Veteran Business Referral Network (VBRN) connects veterans so they can help each other thrive in their businesses.
We are dedicated to networking, building business leads, and growing valuable business connections. Get involved with other passionate and motivated veterans committed to sharing prospects and helping each other's businesses grow and flourish.
Guest Speaker: "Iron" Mike Steadman
Topic: Black Veteran Entrepreneurs (BVE)
Agenda
8:00-8:10 - Registration / Networking
8:10-8:15 - Welcome
8:15-8:45 - 30 second introductions
8:45-9:05 - Guest Speaker, Q&A
9:05-9:30 - Networking
Pro Tip: Your 30 Second Pitch
Name and Service
Current Role/Business (pick only one if you have multiple)
What's a good referral for you?
How can you help others?
Repeat Your Name Again
Speaker Bio:
"IRON" Mike Steadman is the Founder and CEO of IRONBOUND Media, a no-fluff and high-impact brand strategy firm for veterans, by veterans. IRONBOUND Media uses podcasting, brand strategy, and category design to help their clients build Dog Whistle Brands that channel through the noise, stand out from the crowd, and engage their perfect audience.
Mike believes that the future of publishing is Audio. Podcasting allows brands to close the distance between themselves and their audience, unlike ever before. Since founding IRONBOUND Media, Mike and his team have launched over twenty podcasts and are still growing. He also "eats his own dog food," hosting multiple nationally recognized podcasts himself, including The Transition, Confessions Of A Native Son, and, more recently, Dog Whistle Branding.
Outside of IRONBOUND Media, Mike runs IRONBOUND Boxing, a nonprofit that provides free amateur boxing, entrepreneur education, and employment to youth and young adults in Newark, NJ. He's A Naval Academy Graduate, Marine Infantry, and Veteran Fellow at Stanford University's Hoover Institution.
To learn more visit www.IRONBOUNDMedia.com
https://gpvn.org/vbrn
--------------
Sponsors: St. Joe's University, CIG ASIA, Homefront Properties Group, MovementMilitary, and Franchise Freedom Finders