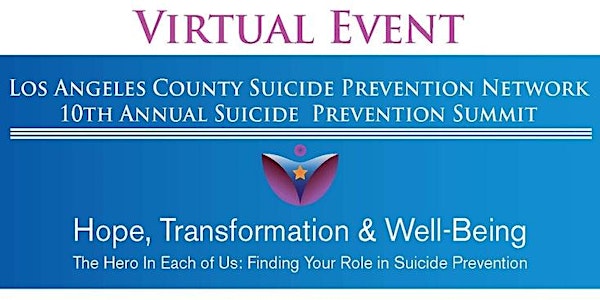 Veteran and First Responder Suicide Prevention Virtual Conference
10th Annual LASPN Suicide Prevention Summit: Hope, Transformation & Well-Being
About this event
This year's 10th Annual Suicide Prevention Summit will focus on the impacts of COVID-19, systemic racism and oppression, and community violence. Our goal is to bring together the brightest minds in Suicide Prevention, to present talks that foster hope, transformation and well-being. Collectively we will explore the role all of us can play in suicide prevention.
Day 3 - Sept 11th: 8:30 am - 2:00 pm (Hosted by CalVet)
This session requires special registration - space is limited. Please complete Eventbrite registration to receive Zoom instructions.
08:30 – 09:00: 9/11 Commemoration Ceremony: Moment of Silence & Reflection.
Introduction: Keith Boylan-Deputy Secretary-Veterans Services Division, CalVet
Welcome: Colette Thomas (LACDMH), James Zenner (VPAN LACDMH), Steve Peck (CEO, U.S. VETS)
09:10 – 10:40: Session 1:
Keynote Nathan Graeser (Brigade Chaplain, California Army National Guard) "Finding the Reasons to Live When Dying Makes Sense"
10:50 – 12:30 Session 2: First Responders & Suicide Panel "Who watches the watchers? Protecting and serving those who Protect & Serve"
Speakers include: Brian Malte (Hope & Heal Fund), Miatta Snetter (U.S. VETS), Crystal Williams (LACDMH), David Weiner (Former Chief of Police, Long Beach VA), and Officer Jasminka Jurisaga (LAPD MEU Team)
13:00-14:40: Session 3: Veterans & Suicide Panel Discussion: "Bringing hope to life: What Suicide Prevention means to me"
Panelists include: Tess Banko (UCLA/VA Veterans Family Wellness Center), Roberto Alvarez (LA County 5th District Supervisor Kathryn Barger, Special Assistant, Military and Veterans Affairs), and Eric Barrera (VPAN LACDMH & Marine Corps Veteran)
Moderated by: Robert K. Stohr (Executive Director, U.S. VETS Patriotic Hall)