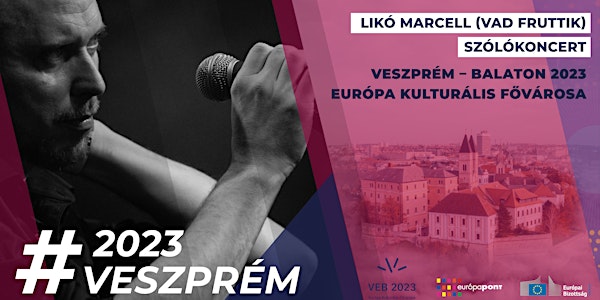 Veszprém – Balaton 2023 Európa Kulturális Fővárosa és Likó Marcell koncert
Az Európa Pontban bemutatkozik a VEB2023 EKF program, ahol ezt követően a Vad Fruttikból ismert Likó Marcell ad koncertet.
When and where
Location
Európa Pont Lövőház utca 35. 1024 Budapest Hungary
About this event
Gyere el Likó Marcell, a Vad Fruttik zenekar frontemberének szólókoncertjére az Európa Pontba! Hangolódj rá a koncertre Veszprém és a Bakony-Balaton régió termelői ízeivel és boraival! Kóstolj bele a helyi különlegességekbe, miközben ízelítőt kapsz az Európa Kulturális Fővárosa 2023 kezdeményezésről!
A város és a régió életét felpezsdítő eseményeket és projekteket ismerhetsz meg, amelyek között biztos találsz kedvedre valót: kulturális programokkal, művészettel, kiállításokkal, zenével, gasztronómiai estekkel, koncertekkel, workshopokkal és sok más izgalmas lehetőséggel vár mindenkit Európa Kulturális Fővárosa. Ha érdekelne a Moholy-Nagy Művészeti Egyetem kiállítása, egy elektronikus zenei workshop vagy egy rendhagyó színházi előadás, ami a négy falon kívül zajlik, akkor hallgasd meg mi minden vár még rád! Tervezd meg velünk programjaidat és szerezz felejthetetlen élményeket!
Tervezett program:
Kerekasztal-beszélgetés
Résztvevők:
• Mike Friderika, az EKF programfejlesztésért felelős igazgatója
• Can Togay János, filmrendező, forgatókönyvíró, az EKF művészeti és kreatív főtanácsadója
• Mészáros Zoltán, az EKF vezérigazgatói főtanácsadója
Koncert
Fellépő: Likó Marcell, a Vad Fruttik zenekar frontembere
A kerekasztal-beszélgetést az www.facebook.com/europapont és a www.facebook.com/EuropaiBizottsagoldalán magyar nyelven, az Európai Bizottság Magyarországi Képviseletének Youtube oldalán (https://bit.ly/3yowHiF) angol nyelven streameljük.
Az Európa Pontban továbbra is javasoljuk maszk viselését.
/// ENGLISH ///
Meet Marcell Likó, the frontman of the band Vad Fruttik at Európa Pont for his solo concert! Get in the mood for the concert with the tastes and wines of the producers of Veszprém and the Bakony-Balaton region. Taste local specialities while getting an overview of the European Capital of Culture 2023 initiative. Discover events and projects that enliven the life of the city and the region, with something for all; cultural programmes, art, exhibitions, music, gastronomic evenings, concerts, workshops and many other exciting opportunities! If you're interested in an exhibition by Moholy-Nagy University of Art and Design, an electronic music workshop or an unusual theatre performance outside the four walls, have a closer look at what else is waiting for you! Plan your activities with us and create unforgettable memories!
Planned programme:
Roundtable-discussion
Participants:
• Friderika Mike, Director of Programme Development at ECOC
• János Can Togay, filmmaker, scriptwriter, chief artistic and creative advisor of the ECOC
• Zoltán Mészáros, Chief Advisor to the CEO of the ECOC
Concert
Performer:
Marcell Likó, frontman of the band Vad Fruttik
The roundtable discussion will be streamed in English on the European Commission Representation in Hungary's YouTube page (https://bit.ly/3yowHiF) and in Hungarian on Europa Pont's Facebook page.