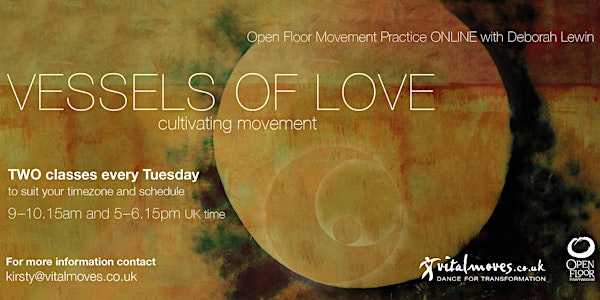 Vessels of Love with Deborah Lewin
A weekly ongoing group for Open Floor Movement
Refund Policy
Contact the organizer to request a refund.
Eventbrite's fee is nonrefundable.
About this event
In these stressful times when so much is feeling, or literally is, out of our control, keeping ourselves healthy, supporting our immune systems and maintaining a sense of community are all choices we can make; away from the vortex of fear and towards the vortex of healing, away from isolation towards connection and belonging. Using embodied movement, and with facilitated support, you are invited to meet what is stirring within you.
most Tuesdays;
25 minutes of guided Open Floor Movement Practice
Verbal reflection and inquiry time
Relational * Physical * Emotional * Essential
Strengthening our Co-Immunity
The class is 75 minutes long
Time: 9 – 10.15am Scotland UK time/ 10 – 11.15am Spain
From September 2022 there will be also Option 2: 5 – 6.15pm Scotland / 6 – 7.15pm Spain
Check your time zone here.
Classes run in 4 week blocks. Check our website for dates. If you're new to Vessels of Love, please attend the FIRST Tuesday of the block. Tickets available here on Eventbrite.
Once you are familiar with the format and the vibe, you're welcome to attend any of the following sessions.
Your first session is priced at £5/£10/£15/£20 (I trust you to assess how much you can afford to pay in these times).
£20 – Solidarity: helps someone else attend
£15 - Standard: covers our costs
£10 – Concession
£5 – Subsidised: if you are financially challenged
Free places for ethnically diverse/less represented identities
Any further sessions that you attend can be paid for as a block or individually, by donation.
Remember, there is a flexible payment system, including free spaces, where needed, for people who are less represented.
The ICMTA has this list which I am also working with:
~Race, ethnicity and culture
~Gender and gender-identity
~ Sexuality
~ Disability/Different abilities
~Social class and socio-economic circumstances
~Geographical location
~Other
Please don't let a lack of funds prevent you from joining us. All are welcome!
For more information about these classes, including the dates they are offered please check here: