Vertical Leap Adult Leadership Training are on- Aug 8 (DAY 1 ~ 9am-7:30pm) & Aug 9 (DAY 2 ~ 2pm-7:30pm) & Aug 10 (DAY 3 ~ 8am-1pm) ~ Extended B.O.S.S. Training is Monday, Aug 10 from 8am-1pm for everyone who wish to teach B.O.S.S. curriculum

Saturday, August 8, 2015 at 9:00 AM

-

Monday, August 10, 2015 at 1:00 PM (PDT)
Event Details
***NEW ELECTRONIC REGISTRATION PROCESS - EVERYONE MUST HAVE A TICKET.Our Training Materials fees have been WAIVED for digital copies of the Vertical Leap Adult Leadership Training Manual.  If you desire to have a PRINTED copy of the training manual, then the cost is $25, but we will need to know at least a week in advance to place your PRINT ORDER.  NOTE:  Wi-Fi access is NOT available onsite, therefore, all printed manuals or downloaded manuals must be done prior to your arrival.  You can bring your own Mi-Fi device.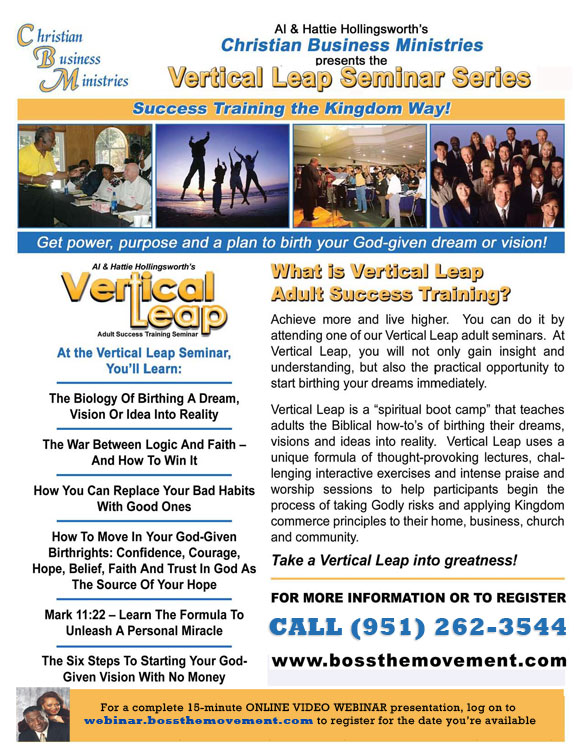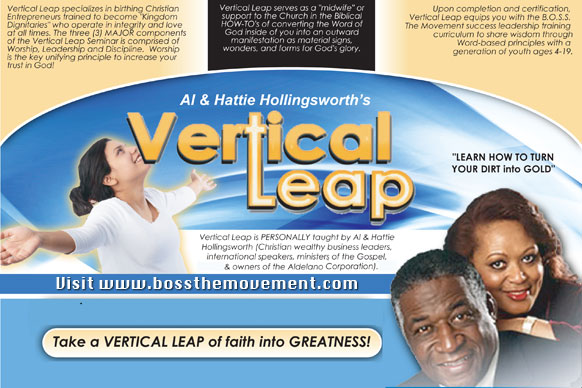 REGISTER FOR FREE TODAY to GUARANTEE YOUR SEAT AT VERTICAL LEAP
($50 Training Material purchase required for new attendees to Phase I)
VERTICAL LEAP ADULT LEADERSHIP SEMINAR 
PHASE I ~ Ontario, California
Phase II ~ Idyllwild, California
You can REGISTER anytime from now through the end of 2015,
call us at 951-262-3544

CHANGE YOU CAN BELIEVE IN!!
There are two (2) main reasons that FORCE people to change...
ARE YOU READY FOR A CHANGE? REALLY?
Are you sick and tired of being sick and tired?
Change Formula:
Current Behavior * Intolerable Pain=CHANGE
--OR--
Current Behavior * Vision = CHANGE
Have questions about Vertical Leap Adult Leadership Training are on- Aug 8 (DAY 1 ~ 9am-7:30pm) & Aug 9 (DAY 2 ~ 2pm-7:30pm) & Aug 10 (DAY 3 ~ 8am-1pm) ~ Extended B.O.S.S. Training is Monday, Aug 10 from 8am-1pm for everyone who wish to teach B.O.S.S. curriculum?
Contact B.O.S.S. The Movement / Vertical Leap
When & Where

BOSS Global Inc. Headquarters
2020 S. Lynx Place
Ontario, CA 91761


Saturday, August 8, 2015 at 9:00 AM

-

Monday, August 10, 2015 at 1:00 PM (PDT)
Add to my calendar
Organizer
Vertical Leap trains adults to train youth ages 4-19 through a power packed spiritual boot camp.  These Kingdom principles are designed to fast track you to move from facts to faith to action and then pass this wisdom on to the next generation! Vertical Leap also teaches you how to train youth to birth their God-given dreams, visions and ideas!
Taught by its founders - ministers of the Gospel, master motivators, christian wealthy business owners and internationally known teachers Al & Hattie Hollingsworth - Vertical Leap is the Biblically based adult success training seminar to prepare adults to train youth how to crystallize what God has given them on the inside and do it on the outside!