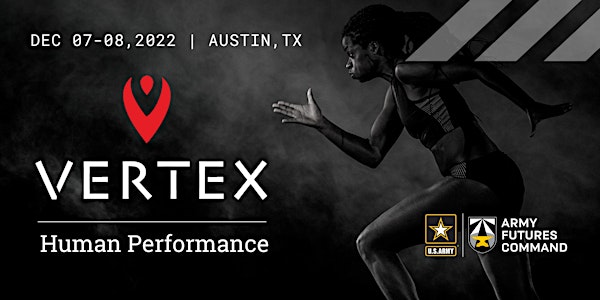 VERTEX | Human Performance
Gather market intel. Tackle real-world use cases with Army experts. Shape the future of human performance technology. It all happens here.
When and where
Location
Capital Factory 701 Brazos Street 1st Floor Austin, TX 78701
About this event
VERTEX events are a concentrated source of market intelligence for the US Army.
Hosted by Army Futures Command (AFC) and the Army Applications Laboratory (AAL), VERTEX | Human Performance places commercial experts and innovators at the center of the conversation to explore and examine the current state of human performance technology.
This 2-day workshop affords founders, investors, and market experts a rare opportunity to baseline product differentiation while informing the US Army's approach to Soldier-centric tech.
Join us for an exclusive opportunity to:
Learn where investors, industry leaders, and entrepreneurs across sectors are focused.
Understand the hardest problems the Army is trying to solve and how your tech could help.
Build relationships in a community of purpose that is working to advance health and human performance technology
Learn more at armyvertex.com.
Please note: Registering for VERTEX | Human Performance does not guarantee your attendance. Those who request to attend will be reviewed and vetted to ensure alignment with the use cases that AFC seeks to address through this event. Once you register, the AAL team will review your information and determine if your area of expertise is a good fit. We'll let you know within approximately three (3) weeks whether you are selected to participate. Please do not book travel or make plans to attend until your attendance is confirmed.
Hear what attendees had to say about previous VERTEX events and why this model is so valuable to the US Army and to commercial industry.