Welcome to the World's 1st Battle Food Festival! TEXAS vs LOUISIANA!!!!!!!
About this event
Welcome to the World's 1st Battle Food Festival!
TEXAS & LOUISIANA ARE YALL READY?!
We call it Versus Food Fest because a good, friendly, fun, competition NEVER HURT ANYONE!.. We want you to come out and represent your city, culture, food, and creativity!
TEXAS vs LOUISIANA!!!
Not only are we going to have delicious food coming from all directions, and being represented by your favorite Restaurants, Caterers, and Chefs, we will also keep you entertained with the city's best DJ's and Bands in BATTLE, playing Hip-Hop, R&B, Rap, Old School, Zydeco and everything else that will keep you moving.
YOU DON'T WANT TO MISS THIS!
Come out and Support your favorite Band, Dj, and food vendors while representing their state and yours!
YOU WILL BE- Two Steppin with some Turkey Legs- Cabbage Patching with some Crawfish - - or you can Boogie with your BBQ. Your ticket allows you entry into the event. You will be able to purchase food from any of the many vendors. You can print your ticket or just have it ready on your mobile device. You may NOT bring outside coolers, food or drinks to the venue. You are allowed to bring tents and chairs.
THERE WILL NOT BE ANY TICKETS SOLD AT THE GATE. TICKETS ARE SOLD ONLINE ONLY!!!
FOR VENDOR INFO: VSFOODFEST@gmail.com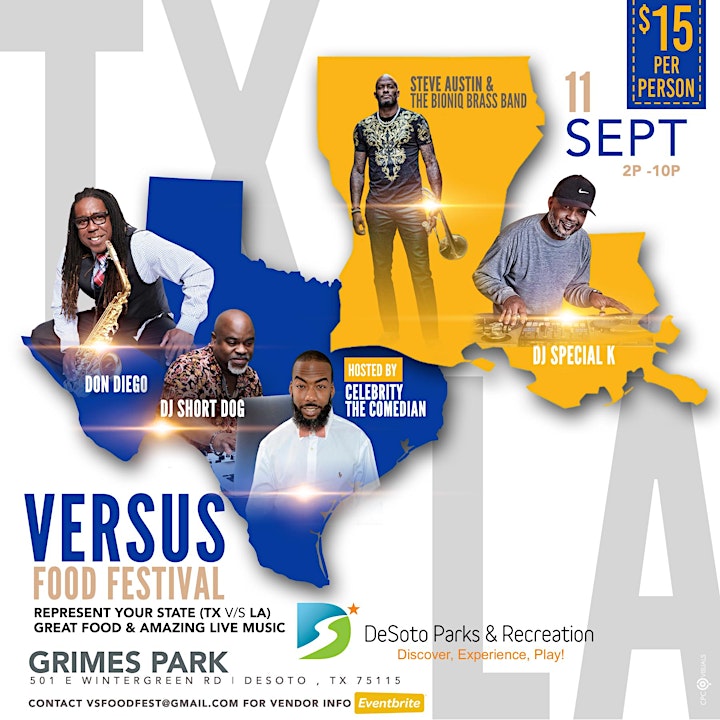 Organizer of Versus Food Festival
The nationally accredited DeSoto Parks and Recreation Department (DPARD) is a local, regional and national award-winning department located in suburban Dallas. The DeSoto Parks and Recreation Department represents the heartbeat of a highly engaged, diverse community. DPARD thrives in promoting health, wellness, multi-cultural arts and entertainment programs. Entertainment, sports and arts programs are top tourist attractions, hosting thousands of residents and visitors to various special events at DeSoto Park destinations.
To learn more about this event, visit www.desototexas.gov/parks