Veronica Varlow: Bohemian Magick: Witchcraft and Secret Spells to Electrify
Join us for an in-person event with internationally renowned witch Veronica Varlow for a workshop including her debut book Bohemian Magick.
About this event
Join us for an in-person event with internationally renowned witch Veronica Varlow for a workshop ritual for creatives and creative success in 2022 . This event will include a spell casting and a discussion of her debut book Bohemian Magick: Witchcraft and Secret Spells to Electrify Your Life. This event will be hosted in the Strand Book Store's 3rd floor Rare Book Room at 828 Broadway on 12th Street.
This event is TICKETED.
Can't make the event? Purchase a signed copy of the book here.
STRAND IN-PERSON EVENT COVID-19 POLICY:
In-person events will be presented to a fully vaccinated audience. All patrons over the age of sixteen will be required to show proof* of having completed the COVID-19 vaccination series at least 14 days prior to the date of the event. New York State has now clarified that a child up to the age of 16 who is unvaccinated and accompanied by a vaccinated adult may, in fact, attend events that otherwise are open only to people who are vaccinated. In such an event, the child will not need to be socially distanced, but they will need to wear masks at all times while attending the event.
*Proof of vaccination will be defined as either an original vaccination card or an Excelsior Pass. We will be checking to ensure compliance with the 14 day waiting period post-vaccination.
For contact tracing purposes, buyers must submit the following information at checkout for each attendee in the attending pod: Full Name, Address, Date of Birth, Email Address, and Phone Number. Registration will be required online. No tickets for entry will be sold at the door.
--------------------------------------------------------------------
In Bohemian Magick, Veronica Varlow, the last daughter in a line of Bohemian witches, weaves together witchcraft knowledge and ancient secret spells with an exotic rock-and-roll magick style that has earned her a devoted following worldwide. This beguiling grimoire-style guide is filled with potent, never-before-revealed spells, hand-written rituals, magick ephemera, hand-drawn sigils, potions, charms, and rhyming incantations that will call your power back to you and electrify your life!
With more than 150 illustrations--drawings, photography, and vintage art--and text written in her own hand, this sumptuous companion is brimming with spells for everlasting confidence, radiant self-love, healing, manifesting your dreams, and love with a desired partner. Veronica calls upon the ancient and hidden Czech-Romani magic passed down to from her grandmother Helen's lineage and infuses it with her own signature sorcery to help you awaken and amplify your truest self. Each spell that you cast, each potion that you brew, and each chant you speak into the universe will rouse the most powerful part of your being!
In Part I, The School of Spectaculus, Veronica reveals, step by step, her personally crafted steps to spellcasting with power. She shares her secrets regarding writing and preparing for spells, calling on ancestors to give your spells oomph, and writing your own badass spells. She also provides information on when to cast spells and other basics that you need to know to perform the mind-blowing rituals she introduces in Part II.
In Part II, Initiations, she introduces you to the hidden magick of Bohemia. She leads you on five initiations, each focused on specific themes including self-love, sizzling confidence, healing, juicy mojo, and love.
Each initiation begins with an experiential journey of discovery, a story in which you are the protagonist, whether following a trail of candles through a dark wood to a river filled with tiny message-filled paper boats or venturing into a tarot parlor on a hot, sultry night to meet a Witch who has come back from the Afterlife to help you find true love.
And, of course, each initiation includes spells with a rock and roll vibe, such as:
Hello, I Love You: Use mirror magick to boost your confidence and magnetism. Return to Sender: Create a magick candle and burn it upside down to protect you and send bad vibes back to where they came from. Search and Destroy: Literally pulverize the false stories you tell yourself by writing them on china plates and smash those poisonous words to bits with a hammer! Bohemian Rhapsody: A secret knot-tying spell to do with a partner to increase passion and intimacy
For each badass bewitching enchantment, Veronica explains its importance, the purpose of practice, and the necessary tools and preparation you'll need to cast it correctly.
With Bohemian Magick, you'll discover your adventurous side and your own unique magick. Get ready to rise up, call your power back to you, realize your purpose, and make your life story truly legendary!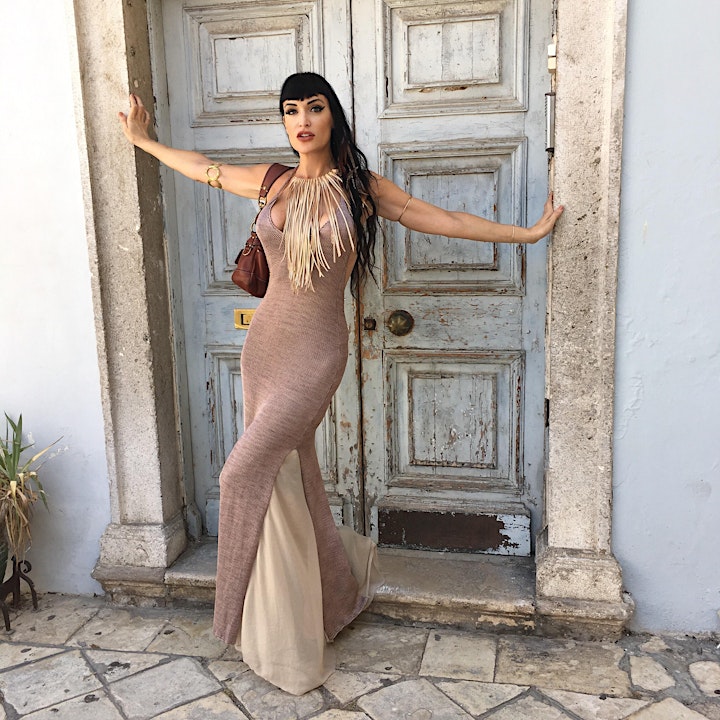 Veronica Varlow is the last of a line of Bohemian Witches, a fourth-generation intuitive, and international burlesque showgirl. She is a confidence and sensuality coach who has been featured on the Tonight Show, Playboy, CNN, and MTV in 150 countries worldwide. She's also appeared on the podcast "Stars like Us" with Aliza Kelly. Her client list includes Chanel, Tiffany & Co., Vogue, Marc Jacobs, Creative Time with David Byrne, and the Whitney Museum. She performs love rituals, couples rituals, and healing rituals all over the underground art scene in New York City at events curated by House of Yes, Shanghai Mermaid, Dances of Vice, Lust, Vox Noctem, and You Are So Lucky. She also writes a regular column called "Life of a Love Witch" for Enchanted Living magazine.
Organizer of Veronica Varlow: Bohemian Magick: Witchcraft and Secret Spells to Electrify
Strand Book Store was born in 1927 on Fourth Avenue on what was then called "Book Row," an area that covered six city blocks and housed forty-eight bookstores. Our founder Benjamin Bass was all of twenty-five years old when he began his modest used bookstore and sought to create a place where books would be loved, and book lovers could congregate. Ninety years and a move over to Broadway, the Strand is still run by the Bass Family and is home to four floors of over 2.5 million used, new, and rare books, a wide array of bookish gifts, and fun literary events held almost every night of the week. From the dollar carts outside to the Rare Book Room on the third floor, and cheeky graffiti-ing throughout the store courtesy of Steve "EPSO" Powers, the iconic store now stands testament a place for book lovers to explore.