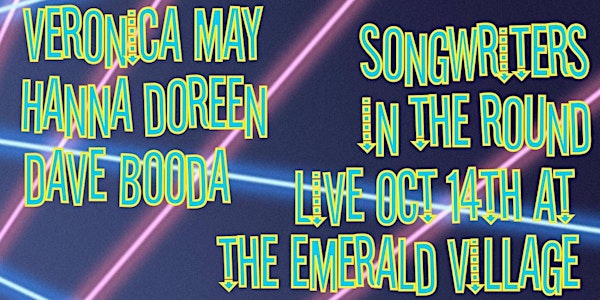 Veronica May, Hanna Doreen & Dave Booda Live in-the-Round @ Emerald Village
Veronica May, Hanna Doreen & Dave Booda Live in-the-Round @ The Emerald Village
When and where
Location
The Emerald Village 1760 Little Gopher Canyon Road Vista, CA 92084
Refund Policy
Contact the organizer to request a refund.
Eventbrite's fee is nonrefundable.
About this event
Hello friends!
Welcome back to the Songwriters-in-the-Round concert series, I can't wait for this show. My very good friend Veronica May called me up and said "hey Dave, I'm on tour with a killer songwrtier named Hanna Doreen, we all have to do a show together". I told her I have the perfect place!
Veronica is a legend in the San Diego musician community, and is officially loved by 100% of the people in it (based on many studies). As usual, the format is in-the-round, which means lots of silliness, stories and surprises. Be ready for anything!
A little about Veronica May:
Veronica May is a blend of music and madness. Plugging in and digging in on her electric guitar or dragging her fingers across sandpaper on the body of her acoustic guitar. She builds layers of acoustic elements not often heard from the instrument. She's a multi-instrumentalist and she also has Bipolar 1, two facts that combine to produce a unique musician whose life work of destigmatizing mental illness is set to music.
A little about Hanna Doreen:
Hanna Doreen Brown is an integrative artist from Rochester, NY who brings innovation to the music she writes and to the spaces in which she performs. Drawing from a deep love for music history, Hanna writes music that reflects her roots in classic country and folk music, but that reaches toward more modern and indie influences as well. Her love for music of the past and present can also be seen in her daily work. Hanna performs covers and originals in Northern Colorado senior care facilities and has built her nonprofit program, Sound Affects, around this work. At night, on the weekends, and on tour, Hanna performs the same music for public audiences, constantly trying to draw connections between traditional and modern music. Hanna hopes that as she continues to write songs, she'll capture the stories of the wise, learn a little about a lot, and break down some stereotypes in the process.
About Dave Booda:
Dave Booda's life has been hard for his mother to explain to her friends. He graduated from the Naval Academy and spent five years as a Navy Officer, then left that to become a professional musician. He then spent three months on a bicycle between London and Turkey, and then moved to Bali to live in a Tantra community. He is known as a leader in the polyamory community in San Diego. He organized TEDxCardiffbytheSea, co-founded IntimacyFest, and has written over 250 essays at boodaism.com. He currently lives at an intentional community in Vista, CA.
Henry David Thoreau said — "How vain it is to sit down to write when you have not stood up to live." Dave's music is a reflection of his life — complicated, diverse and rich. His new album "Happy Accidents" is a collection of memories from a life well lived.