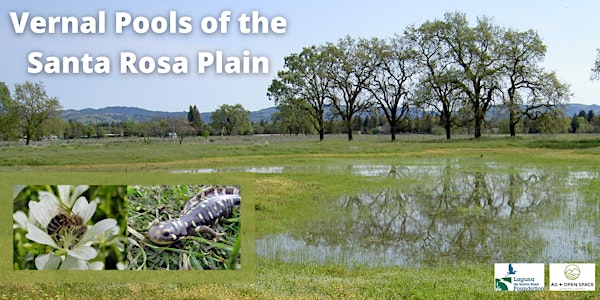 Vernal Pools of the Santa Rosa Plain Virtual Panel Presentation
Dive into the unique biology of vernal pools with this presentation by local experts.
About this event
Dive into the unique biology of vernal pools with this presentation by local experts. Why are vernal pools so special and what is being done to protect them? Where can you see them in the Laguna de Santa Rosa? Kandis Gilmore, Michelle Halbur, and Trish Tartarian will highlight the endemic pollinators, native flora, and the endangered California Tiger Salamander found in vernal pools of the Santa Rosa plain. We will end by discussing land protections and conservation of vernal pools in the Laguna watershed.
There is no charge for this outing, which is made possible by the voters of Sonoma County who fund the work of Ag + Open Space with a quarter-cent sales tax.
Get to Know the Panelists:
Kandis Gilmore, M.S.,has worked as a field researcher in the rocky intertidal, oak woodlands, and vernal pool grassland ecosystems. She got her start in biology at Pierce College in Woodland Hills, CA and then transferred to Sonoma State University, where she completed her Bachelor's degree in 2009 and received her Master's of Science degree in 2017. Her master's thesis research focused on pollinators of three of Sonoma County's endemic and endangered vernal pool plant species Blennosperma bakeri (Sonoma sunshine), Limnanthes vinculans (Sebastopol meadowfoam, and Lasthenia burkei (Burke's Goldfields). She is on the board of directors of Conservation Works (www.conservationworksnc.org) and is the President of the Pacific Coast Entomological Society (www.pcentsoc.org) for 2020-21. Kandis has been on staff as an Instructional Support Technician in the Biology Department of Sonoma State University since 2012.
Michelle Halbur has an M.S. from Purdue University where she studied the conservation genetics and ecology of a rare vernal pool plant that occurs in the Santa Rosa Plain, Sebastopol meadowfoam. Since 2011, Michelle has served as Pepperwood's Preserve Ecologist where she oversees Pepperwood's Community Science and Visiting Scholars programming. She advises Pepperwood's land stewardship activities and manages on-site research projects including long-term forest and grassland monitoring, plant phenology, breeding bird surveys, the Stephen J. Barnhart Herbarium, and more. She is on the boards of the California Native Plant Society, Milo Baker Chapter, and the California Native Grassland Association.
Trish Tartarian, MSc., is a general ecologist experienced with a wide range of taxa. She has a longtime focus on amphibian telemetry research and survey. She possesses state and federal permits for surveys and research with the California red-legged frogs, California tiger salamander, Western pond turtle, and other species. She has worked in the biological consulting field since 1992, and is currently Conservation Co-Chair on the California Native Plant Society, Milo Baker Chapter board.