Description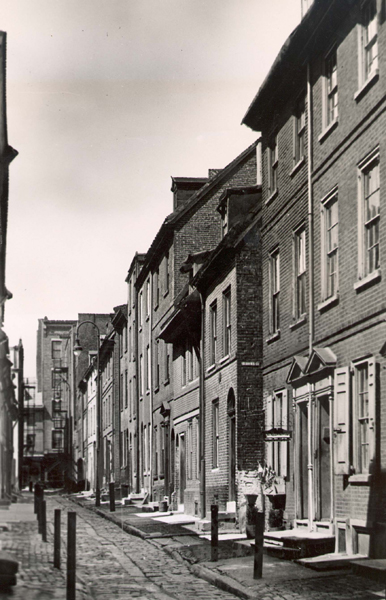 In collaboration with Temple Contemporary's Funeral for a Home project, Bruce Laverty of the Athenaeum will lead a trolley tour that explores the lineage of the Philadelphia rowhome, from the eighteenth century to the present day. Tour stops include Elfreth's Alley, Spruce Street's Portico Row, and Rittenhouse East, with opportunities to enter homes along the way. The tour will conclude with a visit to Temple Contemporary's current exhibit examining the history of vernacular architecture before returning to Elfreth's Alley for drop-off.
Vernacular Architecture: A Trolley Tour of Philadelphia's Historic Rowhomes is a public program of Temple Contemporary's city-wide initiative Funeral for a Home. Funeral for a Home is funded by The Pew Center for Arts & Heritage. For more information about this project visit www.templecontemporary.org.

Image from Karl Lutz Collection, 1950; Courtesy of Athenaeum of Philadelphia
Organizer of Vernacular Architecture: A Trolley Tour of Philadelphia's Historic Rowhomes
Our mission is to creatively re-imagine the social function of art. We believe that democratic leadership is the most appropriate way to produce an artistic program that inclusively responds to pressing issues of local and national significance. This democratic ethos is embodied by a forty-member advisory council of neighboring high-school students of color, Temple University students and faculty, as well as civic/cultural leaders representing a range of skills (nurses, farmers, philosophers, artists, community activists, historians, etc.). To each annual meeting every adviser brings one question that they do not know the answer to.  It is out of these questions, and the debates they provoke within the council that determines Temple Contemporary's programming.

This process grounds us in a position of public service to address contemporary questions of urgency and simultaneously necessitates a fundamental philosophical shift for the organization: from a single curatorial/authorial voice to one that recognizes social engagement and debate as the determining factor of our programming. This re-ordering of conventional gallery values foregrounds curatorial accountability, reciprocity, and exchange, as the basis of Temple Contemporary's social life, and our social values.
Funding for Temple Contemporary comes from The Andy Warhol Foundation, The Fels Foundation, The Barra Foundation, The PEW Center for Arts and Heritage, The Philadelphia Foundation, The Philadelphia Cultural Fund, The Pennsylvania Humanities Council, The Pennsylvania Council on the Arts, Tyler School of Art and Architecture, and Temple University.