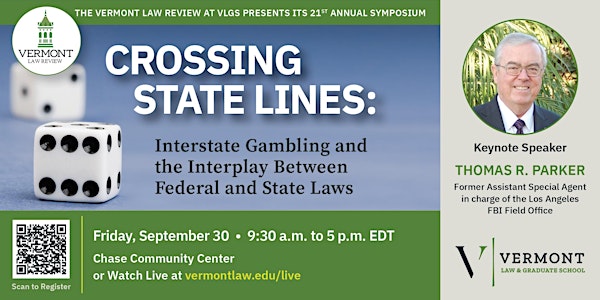 Vermont Law Review vol. 47 Symposium
This symposium will showcase the interstate and multijurisdictional legal issues arising in various practices of law.
About this event
Specifically, the enforcement of and relationship between intrastate gambling and gaming across state lines and/or Tribal Lands; the effects of widespread, legalized sports-betting on current gambling schemes; the impacts of and procedures for multi-jurisdictional litigation across a variety of legal fields.
With Keynote Speaker Thomas R. Parker, A Former Assistant Special Agent in Charge of the Los Angeles FBI Field Office.
Additional Speakers Include: Atty. Scott Scherer, Hon. Colleen K. Sterne,Prof. Anthony Cabot, Prof. Michael McCann,Prof. Bill Werner, and Lindsay Slader.
Breakfast, lunch, and beverages will be provided for in-person attendants.