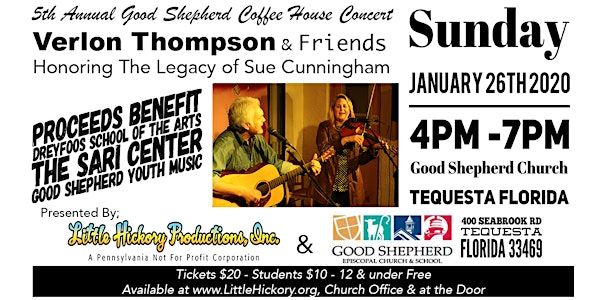 Verlon Thompson & Friends 5th Annual Concert honoring Sue Cunningham
We had a beautiful event with Verlon Thompson in Sues Honor. If you would still like to Donate please click on the Details tab.
About this event
Come join us again in January for our 5th annual Concert honoring Sue Cunningham at the beautiful Episcopal Church of the Good Shepherd in Tequesta. This will be a very special evening of story and song with Grammy nominated songwriter Verlon Thompson.
Verlon Thompson was a close friend and musical collaborator with Sue for many years and we are very excited to have him back and performing in Sue's honor. Verlon will perform 'Find Your Angel' the Civil War 'operetta', which was Sue's favorite creation and the last musical project that they performed together. Verlon will do 'Find Your Angel' and also a second set of original songs and stories when he is joined by some special guests.
Please join us for this musical celebration of the life of our dear friend Sue Cunningham, and help raise money and awareness of the beautiful legacy Sue created.
Sue was instrumental in getting the Coffee House Showcase Series at Good Shepherd started and she performed twice previously with her former band the Rowan Cunningham Band and another wonderful show with her friends The Harris Brothers from North Carolina.
We are hosting Verlon Thompson to honor Sue and the money raised will benefit two great causes;
The Sari Center, Integrative Cancer Care in Palm Beach Gardens Florida, which exists exclusively to guide a cancer patient's journey through treatment, while working toward the ultimate goal of enhanced quality of life. The highly trained and qualified professionals that make up the interdisciplinary team at the Sari Center are careful not to suggest an unrealistic expectation that complementary therapies can cure a patient's illness. However, the staff does work collaboratively with the physicians to incorporate integrative services into a patient's course of medical treatment, supporting their ongoing physical and emotional needs by promoting a healthy mind, body and spirit.
The Sue Cunningham Memorial Music Scholarship is a financial scholarship awarded annually to a young violinist from the Dreyfoos School of the Arts in West Palm Beach, Florida, and helps them to attend the summer music program of their choice. The scholarship honors Sue in a beautiful way as she loved nothing more than sharing her musical talents and mentoring young people.
Verlon has been a professional songwriter and a traveling musician for over 30 years, both as a solo performer, and performing partner and co-writer with Texas American songwriting icon Guy Clark. His compositions have been recorded by Jimmy Buffett, Alan Jackson, Anne Murray, The Nitty Gritty Dirt Band, Kenny Rogers, Randy Travis, Del McCoury, Sam Bush, Trisha Yearwood, Brooks and Dunn, Dierks Bentley and many more. Equally important in his songwriting and live performances, Verlon's guitar proficiency has not gone unnoticed – his guitar can be heard on recordings by Restless Heart, Pam Tillis, and many more, including and especially Guy Clark.
Verlon, the quintessential troubadour, peerless guitar player and songwriter, welcomes you into his "living room" for an unparalleled evening of music, stories and song!
Tickets, $20 Adults, $10 Students Children 12 under are Free.
All money raised by Good Shepherd Coffee House at the Episcopal Church of the Good Shepherd this weekend, through your generous donations will go to The Sue Cunningham Memorial Music Scholarship at the Dreyfoos School of the Arts, The Sari Center, Integrative Cancer Care as well as the Good Shepherd Youth Music Program.
Please call or email Erik with any questions, 561-262-5692, erik@littlehickory.org
Organizer of Verlon Thompson & Friends 5th Annual Concert honoring Sue Cunningham