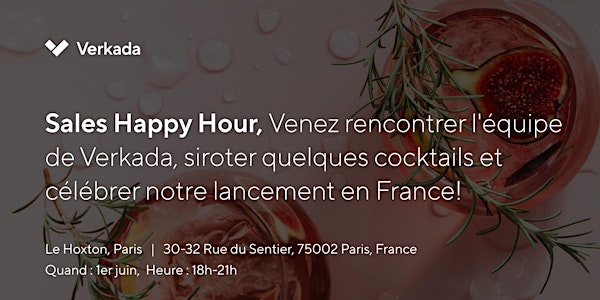 Verkada Sales Happy Hour!
Verkada se lance en France !
Date and time
Thu, 1 Jun 2023 18:00 - 21:00 CEST
Location
The Hoxton, Paris 30-32 Rue du Sentier 75002 Paris France
About this event
Verkada se lance en France et recrute des commerciaux !
Avec plus de 1 600 employés dans le monde, Verkada continue son développement et se lance en France !
L'équipe se déplace à Paris à la rencontre de profils commerciaux! Si vous êtes à la recherche d'une nouvelle opportunité, curieux d'en apprendre plus sur Verkada, rejoignez-nous autour d'un cocktail amuse-bouche à l'Hoxton!
Quand : 1er juin
Heure : 18h-21h
Lieu : Le Hoxton, Paris
Merci de RSVP afin de réserver votre
About the organiser
Verkada is leading the cloud-managed enterprise building security industry by enabling over 17,000 organizations in over 70 countries to protect their people and property in a way that respects individuals' privacy. Designed with simplicity in mind, Verkada offers seven product lines — video security cameras, door-based access control, environmental sensors, alarms, guest management, mailroom management and intercoms — that provide unparalleled visibility through a single cloud-based software platform.