Description
For the women who've shaped our history and the women who will re-shape our future through continuous creativity, ingenuity, and perseverance: this one is for you.
Verizon FWD/, in partnership with Alley, would like to invite you to a panel discussion and networking event on Tuesday, March 28th.
In line with AOL's MAKERS programming, this event has been built around the theme of #BEBOLD: Trailblazing the Future. Join us for a discussion with a group of exceptional women and leaders from Verizon and Aol who will be sharing their insight on career growth, self-branding, workplace politics, and women's future footprint in STEM roles. In addition, there will be networking opportunities with the panelists before and after the event.
Don't miss out on this experience!
Meet Our Panel of Guest Speakers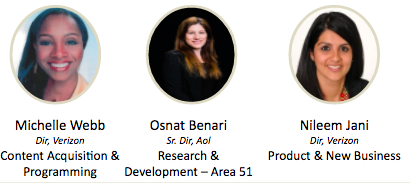 About The Speakers
Alissa Van Volkom
Alissa Van Volkom is Vice President of Consumer Product Marketing for Verizon, responsible for driving new product solutions in the Internet of Things space and Internet Services product portfolio. She drives new product ideation by identifying key opportunities and business models and delivering new product solutions to customers. Her current portfolio includes FiOS Broadband, Wireless Communication products and Connected Home among others.
Prior to her current role, Alissa was Executive Director of Product & Content Marketing, responsible for delivering new products that support the Safety and Security and Entertainment pillars. During that time, her team was responsible for delivering over $1B in revenue to the Verizon Wireless business unit. Previously, Alissa led both the Go-to-Market and Pricing team and was responsible for the strategy, planning and implementation of all pricing initiatives, most notably being the launch of Share Everything.
Alissa holds a bachelor's degree from University of Massachusetts, Amherst. She and her family are natives of NJ and enjoy spending as much time as possible relaxing on the Jersey shore.
Michelle Webb
Michelle Webb is General Manager and Chief Programming Officer for Verizon's Emmy award-winning FiOS1 News local channels serving New York and New Jersey. She is also a Director on the Content Acquisition and Programming team where she leads the team responsible for local content and broadcaster retransmission consent negotiations and multicultural content strategy and execution across all platforms. Her team also is primary liaison with all external programmers for content and product launches and on-boarding management.
After a successful career as a journalist and producer at CBS' 60 Minutes and later ABC'sPrimetime, Michelle joined Verizon to create its local news channels in 2006. She attained her undergraduate degree from Harvard University and her Executive MBA from Columbia University.
Osnat Benari
Osnat leads Research and Development for Area 51, AOL's innovation arm looking at future technologies and partnerships relevant to AOL's portfolio of content and advertising brands. In her role, she partners with startups and universities to identify relevant technologies and talent to work on tomorrow's next big ideas. She also leads the Area 51 program, where employees and recent college grads can bring their ideas to production. Osnat is a product creator and an active mentor for startups, and serves in several groups dedicated to empowering women to in lead in tech. Before AOL Area 51, she led the product groups for AOL Video and Studios.
Nileem Jan
Nileem Jani has been named one of Advertising Women of New York and Working Mother Magazine's 2015Working Mothers of the Year. Nileem is one of twenty women selected based on their commitment to balancing work and life, strength as role models and mentors in the workplace, and positive influence within their communities.But as Nileem explains it, managing her dual roles as Product Director of the PNBI team's Consumer Products group and the mother of three small children isn't about balance. She prefers to look at it as work-life integration."I was a marketing consultant before I came to Verizon, and I lived a very modular life," she explained. "I traveled for the first year of my daughter's life, and I loved that I could easily switch the type of work I was doing based on the client, the industry, or the consumer."While she loved the work, the transient nature of the job didn't always mesh with her needs as a mom, and she considered other career opt.
Kristi Crum
Kristi is a highly experienced Product Development, Sales, Operations and Marketing Leader. She has proven results focused on profitable sales growth, brand recognition, market differentiation, market growth and team culture.
Prior to her creation of the new Distribution and Channel Strategy team, she served as the Regional President for the former South Central Region. In her role as Regional President, she drove the region to best in class customer acquisition numbers resulting in market share growth every month while serving in her role.
She has enjoyed multiple positions of increasing responsibility over her 15 years with Verizon. She started her career as an Analyst and has since had 9 positions with exposure to multiple facets of the business and earned 3 patents with Verizon's support.
In her spare time, she enjoys running, community outreach and spending time with her 10 year old twin boys.