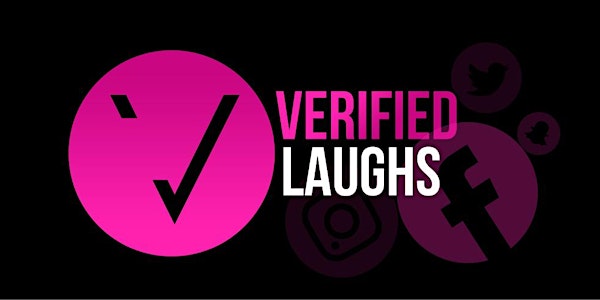 Verified Laughs Comedy Competition at Laugh Factory Chicago
Join us Wednesday nights for Chicago's biggest comedy competition! The city's best standup comedians compete for Verified Laughs!
When and where
Location
Laugh Factory Chicago 3175 N. Broadway Chicago, IL 60657
About this event
WELCOME TO THE FUTURE! Where everyone and their grammy needs followers! Brand! And a constant stream of content! Out of this comes Verified Laughs, a weekly show where Chicago's top comics go head to head for YOUR VOTE. The winners compete in a showdown at the end of the month to win the ultimate, most verified title.
Age restriction: 18 years and over
2 drink minimum per person (can be non-alcoholic or alcoholic beverage).
General Admission is based on first come first serve (may be standing room only).
Doors open 60min prior to the show's start time.
18% service fee will be applied to all drink tabs at payment to be given directly to service staff.
NO CASH in the showroom! Please bring a credit/debit card for purchasing.
*At the end of the night, show one of our staff members your review of Laugh Factory Chicago on Google, Yelp, or TripAdvisor and receive free tickets to a future show of your choosing!
Q. Do you have a box office we can purchase tickets in advance from?
Tickets can be purchased at the door up to an hour before the show's start time (if the show is not already sold out).
Tickets can always be purchased on our website: Laugh Factory Chicago Tickets!
Q. What time should we arrive at the club if we have already purchased tickets?
We recommend arriving between 1 hour to 30 minutes prior to the show start time. Seating is arranged on a first come first serve basis (may be standing room only).
Q. If we already purchased tickets, do we still need to wait in line?
We are working to ensure there is no significant waiting in line and patrons are sat in a timely manner.
Q. What is the age limit to get into the club?
Our club is 18 and over unless otherwise specified. You must be 21 or older to purchase alcohol.
Q. What's the parking situation?
Street parking is available throughout the area. However, public transit, ride-sharing apps, and taxi services are highly encouraged.
Q. What is your dress code?
There is no dress code, but we do require that you wear clothes.
Q. If my friends all bought tickets separately, can we still be seated together?
As long as your party arrives together, you will be seated together if enough seats are available. At the start of the show, any open seats will be forfeited.
***If you are feeling ill, we kindly ask that you keep everyone safe and refrain from entering the venue to avoid the spread of illness.