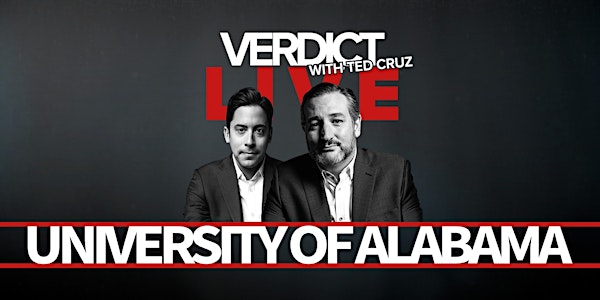 Verdict with Ted Cruz Live
University of Alabama Young Americans for Freedom is excited to host Senator Ted Cruz and Michael Knowles for a live taping of Verdict!
When and where
Location
Tuscaloosa River Market 1900 Jack Warner Pkwy Tuscaloosa, AL 35401
About this event
Now in its third year of surging popularity, Verdict hit #1 on the podcast charts within weeks of launching amidst the Trump impeachment trials in 2020. Ever since then, the Senator and Michael get together each week to bring viewers the scoop from inside the Beltway, break down the most important stories of the day, and reveal what Washington's inner workings mean for you.
This event is made possible by Young America's Foundation's Logan Family Lecture Series.
Doors open at 6:00. Unclaimed seats will be offered to those in the standby line after 6:45. This event is free and open to the public.
Viewers across America can watch the action live from the comfort of their own home, free of charge, by subscribing to the YAFtv and Verdict with Ted Cruz channels on YouTube.
Food, drinks, and signs are prohibited. A ticket does not guarentee entry to the event.