Venus Concept "V Lounge" Aesthetic Seminar - Chicago

Wednesday, December 5, 2012 from 6:30 PM to 8:30 PM (MST)

Schaumburg, IL
Event Details
Superior Technology.  No Credit Checks. No Long Term Lease Contracts. No Consumables.   3 Year Warranty. Full Marketing & Customer Support.
Please join Venus-Concept for an exclusive seminar and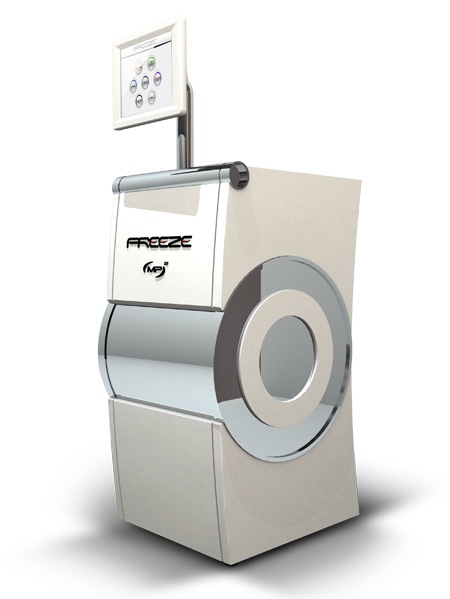 presentation of the Venus FREEZE for Non Surgical Fat Reduction, Cellulite Reduction and Skin Tightening for the Body, Face and Neck.
Discover why Venus FREEZE is rapidly becoming an industry leader in medical aesthetics and learn how you can acquire this cutting edge technology through our unique, minimal risk subscription program
Why Venus Concept
We develop and manufacture Venus Freeze, the world's first pleasant and pain-free multi-polar RF technology device for the medical aesthetic industry.  This non-invasive product combines Radio Frequency (RF) and Magnetic Pulses into a revolutionary technology called (MP)², used efficaciously in circumference reduction, cellulite improvement, skin tightening and wrinkle reduction. 
Our Value Proposition
Our strength - and our value to you - lies in our team's comprehensive grasp of technology that works to provide a safe, pleasant, pain-free experience in treatments for the body and face parts including arms, abdomen, thighs, buttocks, neck and face.
Helping you Succeed 
Our business model is unique in the industry.  Not only do we offer you a Low Risk subscription program that gets you started right away, and helps you generate happy clients and revenue from the first day, but we also work tirelessly to support and provide you with the most sophisticated tools to help you market and succeed in your practice.  Stated simply, our commitment is to help you succeed and provide you with the easiest and most effective tools to get you there.
Check out our enhanced Physician Locator - Click Here
In Office Demonstration
If you cannot attend or you wish to schedule an in office demonstration of Venus Freeze prior to or after  this workshop, please Click Here
When & Where


Shaws Crab House
1900 E Higgins Rd


Schaumburg

,

IL

60173

Wednesday, December 5, 2012 from 6:30 PM to 8:30 PM (MST)
Add to my calendar
Organizer
Venus Concept
"Wow" "Amazing" "Exciting" "Fantastic" "We Love It"
 "Venus Freeze is HOT in our practice. One system for non surgical fat reduction, cellulite reduction and facial skin tightening. Our patients love it!" Roby Hayes, MD - Portland, OR
 "We've considered other technologies for our practice but we found Venus Freeze to offer the best results for both non surgical fat reduction and skin tightening, combined with a unique low risk subscription business model." Teri Burnett, MD - Plastic Surgeon - Seattle, WA
 "Venus Freeze is an ideal compliment to Plastic Surgery. It offers a painless solution to cellulite & skin tightening in a practice that already has alternate technology." Julius Few, MD - Plastic Surgeon - Chicago, IL
"Venus Freeze is the complete package!! Non surgical fat reduction, cellulite reduction and skin tightening in one system. Painless and excellent results. Our clients love seeing results." Wendy Christman - Owner of Aesthetic Laser & Skin - Puyallup,WA
 "How great to recommend a treatment that has consistent results, is absolutely painless and is affordable to patients! Dr. Tami and the Vitality team LOVE the Venus Freeze tightening for face and body!" Tami Meraglia, M.D - Seattle, WA
"Venus Freeze Non-Surgical Fat Reduction, Cellulite Reduction and Skin Tightening has been an exciting new addition to our practice and our patients love it!" Nichole Black - Clinic Director for NainaMD - Lake Oswego, WA
 "Venus Freeze has been an exciting new addition to our practice and our patients love it!" F. Victor Rueckl, MD - Las Vegas, NV
"It's all about Venus Freeze in our practice and our patients are seeing amazing results! We couldn't be happier." Dr. Tom Triba - Omaha, NB
"Venus Freeze is the most popular treatment we offer now for non surgical body shaping and skin tightening. Our patients really look forward to coming in. Venus Freeze is AMAZING!!" Illume Medical Spa - Kansas City, MO
"Our patients love Venus Freeze. Venus Freeze is a fantastic addition to our practice with excellent results." Synergi MedSpa - Chesterfield, MO
 "The single biggest thing about Venus Freeze is that patients are seeing results without experiencing any pain. Patients are not worried to do the procedures, they actually look forward to it, and they are pleasantly surprised that something as simple and easy actually works. It has been a very easy sell for us as a clinic." Tess Mauricio, MD - San Diego & La Jolla
 "One system that offers non-invasive body shaping, cellulite reduction & skin tightening. Venus Freeze offers it all painlessly and with excellent results." Angelina Devera, MD – Fountain Valley , CA
"Venus Freeze is one of the most exciting technologies to hit aesthetic medicine in awhile. Painless, easy to use with fantastic results. Finally!! A technology that actually does what it claims. Non invasive fat reduction, cellulite reduction and skin tightening. We are very happy with Venus Freeze!" Dee Silvers - Gladwyne, PA
 "WOW!! We are so excited with how well Venus Freeze has been received by our patients. Amazing results and absolutely painless." Lisa Cobb - Owner of Luxury on Lovers - Dallas, TX
 "Non Surgical Fat Reduction, Cellulite Reduction and Skin Tightening...OH MY!! Venus Freeze delivers it all with ZERO pain!" Violet Gerakopulos - Naturally Smooth - Kitchener, Ontario Canada
Visit us at www.venus-concept.com
Venus Freeze is cleared by Health Canada for Skin Tightening and Temporary Reduction of Cellulite. Cleared by the FDA for Facial Wrinkles and Rhytides