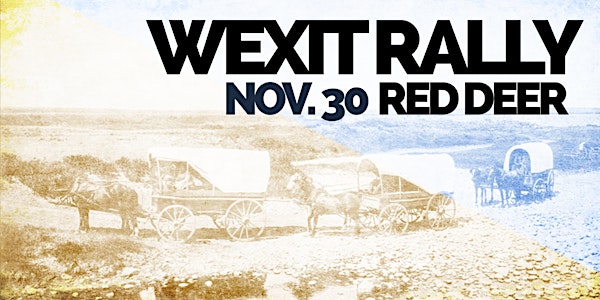 *VENUE BOOKED/TIME UPDATED 6-8PM* ROUND 3: WEXIT RALLY, RED DEER [Nov. 30]
ROUND 3: WEXIT RALLY, RED DEER [Nov. 30] - **EVENT IN PRAIRIE PAVILION ROOM NEXT TO THE RINK**
When and where
Location
Westerner Park (ROOM: Prairie Pavilion) 4847 A 19 St. Red Deer, AB T4R 2N7 Canada
About this event
UPDATE: This event is from 6pm-8pm. Attendees are welcome to come early to select seating and to avoid the parking fare of $7 (parking fare starts @ 5pm).
ROUND 3: WEXIT RALLY, RED DEER [Nov. 30] - **VENUE BOOKED / EVENT TIME UPDATED 6-8PM**
About this Event
WANT TO STAY UPDATED WITH ALL UPCOMING WEXIT RALLIES/MEETINGS?
BOOKMARK OUR WEBSITE:
www.WexitEvents.com
***RALLY IS BASED ON A FIRST COME/FIRST SERVE. THIS VENUE HAS SEATING FOR _700_. TICKETS ARE NOT REQUIRED AT THE DOOR.***
SPEAKER:
Peter Downing is a former member of the RCMP & Canadian Forces; is the Founder of Wexit Alberta, the Executive Director of Alberta Fights Back, and Co-Director of the Prairie Freedom Movement.
He is the organizer behind the "Should Alberta Ditch Canada?" digital billboard which gained coast-to-coast mainstream media attention in February 2019, helping bring Alberta Separation into the mainstream public consciousness. This campaign was the inspiration for the subsequent "Should Saskatchewan Leave Canada?" of March 2019, which further advanced the cause of Western Separation and gained international mainstream media attention.
His short and medium term political goals include official registration of Wexit Alberta, building strong electoral districts, and electing Wexit Party MLAs in upcoming by-elections.
CONNECT WITH US ONLINE:
Email: info@WexitAlberta.com
Website: www.WexitAlberta.com
Facebook: www.facebook.com/WexitAlberta
Twitter: www.twitter.com/WexitAlberta
LinkedIn: www.linkedin.com/WexitAlberta
Event Bulletin Board: www.WexitEvents.com <- (BOOKMARK TO STAY UPDATED)