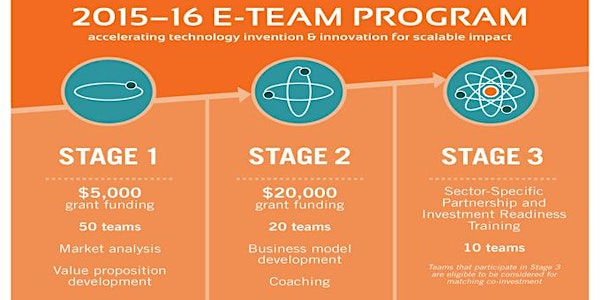 VentureWell E-Team Grant Info Session
When and where
Location
Greenhouse Innovation Space 6 Metrotech Center Brooklyn, NY 11201
Description
Looking for funding for your venture? Learn how to apply to VentureWell's E-Team Program for a chance to receive up to $25,000 in grant funding.
The VentureWell E-Team Program helps college students launch new ventures. The three-stage program provides grant funding, experiential workshops, veteran coaching and a potential investment opportunity to help students' project reach their full commercial potential. See guidelines here.
Stage 1 provides funding of $5,000 to attend a three-day workshop on how to better articulate the opportunity for the innovation in the marketplace. Remaining funds may be used to support further development of the project/product.
Stage 2 provides additional funding of up to $20,000. In a second workshop, teams develop their business model hypotheses and plans to test them. Six monthly coaching sessions follow, helping keep teams moving forward.
Stage 3 program focuses on helping teams develop a venture development plan to prepare for relationships with investors and strategic partners.
What is an E-Team: VentureWell defines an "E-Team" as a multidisciplinary group of students, faculty, and mentors working together to bring an invention to market.