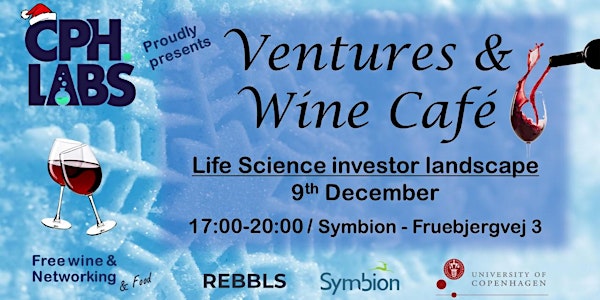 Ventures & Wine Café - December Edition
Wine and Life Science Venture Discussions - What is the VC landscape like in Life Science
About this event
The Ventures and Wine Café was created to get people from outside or inside CPHLabs to come share some of their expertise.
Our December edition will revolve around Life Science VC Landscape - and take a deep look at how different companies within the Life Science sphere will need to fundraise in different ways.
We will among other things try to answer these questions:
How does a Medtech Start-Up need to differentiate itself from an Industrial Biotech Start-Up?
Who should I approach when looking for VC funding - and at what stage?
What do VC's want to see from a Life Science company?
Does Wine help?
As always, experts will have been invited to be present, so you ask questions and learn from their expertise within Life Science or Entrepreneurship. This is a great opportunity to engage and ask the questions you so desperately need answers to!
This event is informal, all we ask is that you sign up so we know approximately how much wine to bring.
There will be free wine and food :)
Please be aware that we will be checking Covid Pass for all participants.
Organizer of Ventures & Wine Café - December Edition